20 Internet Marketing Success Shortcuts
***Start your own business online in a matter of days! Or, boost your website's performance with these tried and tested tips.***
There are dozens of things you need to do in order to market your business successfully online. The question is, what will bring you the most success?
In this guide to Internet marketing success shortcuts, you will learn how to:
+ Research your niche effectively
+ Profile your ideal customer
+ Produce great content for your site or ebooks in a matter of days
+ Get your website spidered by the search engines quickly once you launch, and regularly every time you add new content.
You will discover insider information and the hands-on skills you need to know in order to launch a successful online business and promote it.  Learn how to:
+ Lure Google to your website like a magnet
+ Set up a powerful email marketing program
+ Find great affiliate products to sell if you have no products of your own yet
+ Create your own profitable products in your niche of choice
+ Drive traffic to your site, for members and sales
+ Craft irresistible offers that your hungry prospects will devour and much more.
This no-nonsense guide lays out 20 essential success shortcuts you need to lay the foundation for a money-making business online.
If you want to:
+ Add to your income
+ Replace lost income
+ Create automatic streams of income that will earn for you 24/7/365
+ Take your career and financial opportunities to a whole new level
then you need to learn these success shortcuts. Download this guide today, take action on what you learn, and watch your website and revenues grow.
Word Count=13,000
=====
TABLE OF CONTENTS
INTRODUCTION
SUCCESS SHORTCUTS 1 – 20
CONCLUSION
BONUS SUCCESS SHORTCUT #21
FURTHER READING
CHECKLIST OF SHORTCUTS TO USE TO MARKET YOUR BUSINESS SUCCESSFULLY ONLINE
=====
Who is this guide for? This guide is ideal for:
New online business owners
New website owners
New Internet Marketers
Business owners who need to learn how to market online effectively.
=====
ABOUT THE AUTHORS
Joan Mullally and Evelyn Trimborn are the authors of over three dozen marketing and finance guides and two of the co-founders and leading consultants at Accent Marketing Group, Inc. Their Marketing Matters and Internet Marketing Success Secrets titles are designed to help even newcomers to the world of ecommerce so that they can succeed in running a profitable business and making money online.
Buy Now: 20 Internet Marketing Success Shortcuts (Marketing Matters)
Summary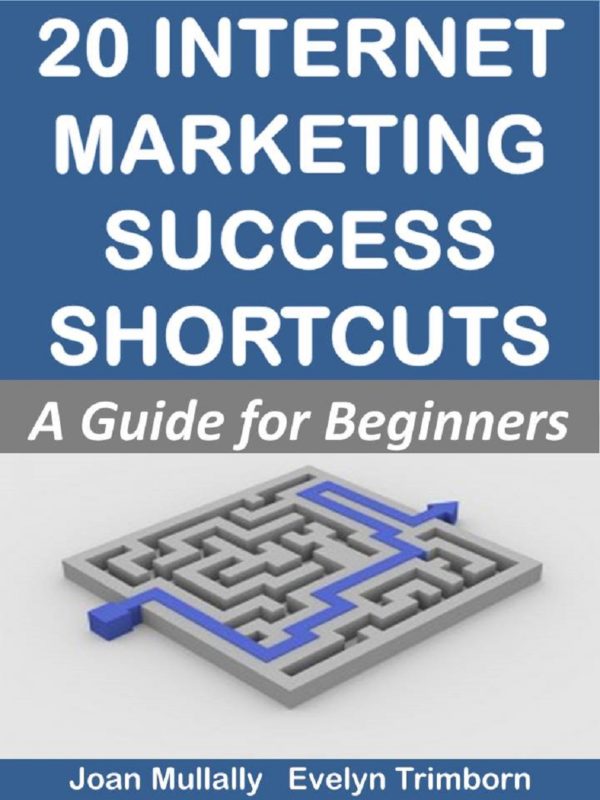 Author Rating





Brand Name
Product Name
20 Internet Marketing Success Shortcuts
Price
Product Availability