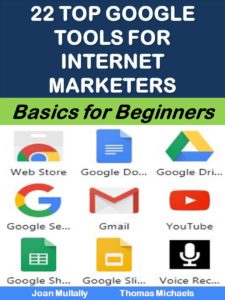 22 Top Google Tools for Internet Marketers
Google isn't just a search engine. It is also an invaluable suite of free tools you can use to work smarter, not harder, in order to get it all done as an Internet marketer. These are not only powerful tools that will help you stay organized, they can also help you earn more money and keep your finger on the pulse of some of the top trends in marketing and within your niche or industry.
If you are looking to do more in your business, but just feel stuck, or have no idea where to begin, start using these top tools, and take your business to the next level.
++++
Word Count=14,785
Read more with Kindle Unlimited, or Buy Now
++++
WHAT'S IN THIS GUIDE
INTRODUCTION
CHAPTER 1: GOOGLE GMAIL
CHAPTER 2: GOOGLE CALENDAR
CHAPTER 3: GOOGLE ADSENSE
CHAPTER 4: GOOGLE ADWORDS
CHAPTER 5: GOOGLE ALERTS
and 17 more.
+++++
ABOUT THE AUTHORS
Joan Mullally is the author of more than 120 marketing guides and courses. Thomas Michaels is the author of more than 50 marketing guide and courses. Both try to help new online marketers gain the skills they need to succeed.
—Begin Code—

Jogena's eBook Directory – Your one-stop ebook spot!
—End Code—
Summary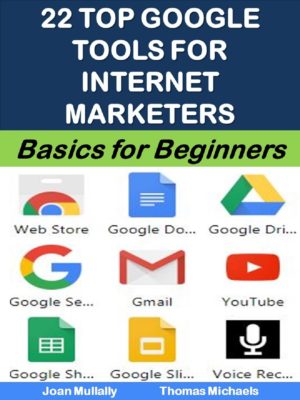 Author Rating





Eternal Spiral Books
Product Name
22 Top Google Tools for Internet Marketers
Price
Product Availability