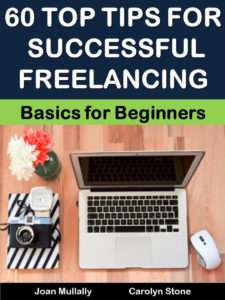 60 Top Tips for Successful Freelancing
More people are working online as freelancers than ever before. This makes it more competitive, which means you need to keep on your toes when it comes to starting your own business as a freelancer. Many people are attracted to the "free" part of freelancing, that is, being able to your own schedule, work wherever you wish, even on a beach, and charge good rates for your professional services.
But you certainly don't want to work for free, or allow people to "make free" with your time just because you are working at home, or not in a conventional 9 to 5 office job.
In this guide, you will discover top tips from experienced freelancers that will help you get started on the road to a fulfilling and successful career as a freelancer.
Work full or part time. Be a stay at home parent. Live the "laptop lifestyle" and work on the go from any location you like. If you have the skills, self-discipline, software, Internet connectivity/Wi-fi, and the will to succeed, working as a freelancer could be the perfect opportunity for you to do something you love and get paid for it as well.
You will also discover ways to market yourself effectively to get the pick of top clients and projects. Download this guide today and use all you learn to help you achieve your financial and professional goals.
Audience:
+Aspiring freelancers
+New freelancers who need to get better organized
+New freelancers who are struggling to get started with clients and income
+Shy freelancers who need to market themselves better
++++
Word Count=15,947 words
BUY NOW OR READ MORE WITH KINDLE UNLIMITED
++++
TABLE OF CONTENTS
WHAT'S IN THIS GUIDE
INTRODUCTION
1-WHY BECOME A FREELANCER?
2-HOW TO PICK THE RIGHT PROJECTS
3-LAYING THE FOUNDATION FOR SUCCESS
4-60 TOP TIPS FOR SUCCESSFUL FREELANCING
CONCLUSION
RESOURCES
*Resources for Writers
CHECKLIST OF SUCCESSFUL FREELANCING TIPS
FURTHER READING
BUY NOW OR READ MORE WITH KINDLE UNLIMITED
++++
ABOUT THE AUTHORS
Joan Mullally and Carolyn Stone have worked online as freelancers for many years. They are the authors of more than 200 business, marketing and self-help guides and courses.
Summary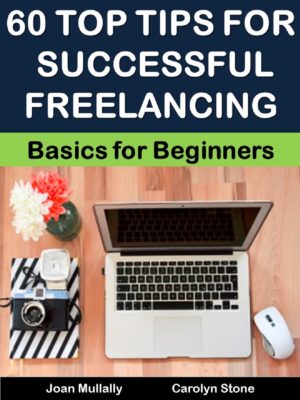 Author Rating





Eternal Spiral Books
Product Name
60 Top Tips for Successful Freelancing: Basics for Beginners
Price
Product Availability