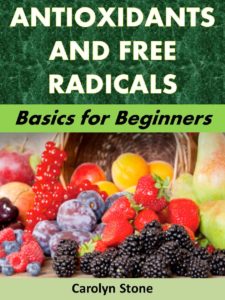 Have you ever noticed how some people look great no matter what their age, while others look old before their time? Is how well we age, and look when we age, all to do with genes and heredity? Or does it have something to do with the lifestyle choices that each of us makes?
The secret DOES have to do with choices, but can't be found in fancy face creams or plastic surgery. The answer lies deep within your body, on the cellular level, where every day, free radicals are being released into your system.
Free radicals appear to be one of the major causes of the effects of aging on the body. But what are they, where do they come from, and how can you stop them from harming your health and causing disease?
Antioxidants could be the answer.
In this guide, you will learn the essentials about antioxidants and free radicals, and how to add antioxidants to your diet in order to fight premature aging and disease, which can ruin your quality of life.
In this guide, you will learn:
* What free radicals are
* Where free radicals come from
* What antioxidants are
* How antioxidants combat free radicals
* The best sources of antioxidants for your health
* How to protect your family through introducing them to more antioxidants
* How to get enough antioxidants despite your busy and stressful lifestyle.
If you want to prevent or fight the most common illnesses that affect us as we age, download this guide now and use all you learn to improve your health.
+++
Word Count=10,539
Buy Now or read more with Kindle Unlimited
+++
INTRODUCTION
CHAPTER 1: WHAT ARE FREE RADICALS?
CHAPTER 2: THE AGING PROCESS IN THE HUMAN BODY
CHAPTER 3: WHAT ARE ANTIOXIDANTS?
CHAPTER 4: HOW MIGHT ANTIOXIDANTS PREVENT CANCER?
CHAPTER 5: WHERE TO FIND ANTIOXIDANTS TO MAINTAIN HEALTH AND WELLNESS
CHAPTER 6: THE BEST WAYS TO GET ANTIOXIDANTS EVERY DAY
CONCLUSION
FURTHER READING
APPENDIX 1: YOUR ANTIOXIDANT CHECKLIST
RECIPE SUGGESTIONS
SPOTLIGHT: PARSLEY
SPOTLIGHT: GRAPE SEED
SPOTLIGHT: FACE CREAMS WITH ANTIOXIDANTS
Buy Now or read more with Kindle Unlimited
++++
About the Author
Carolyn Stone is the author of more than 100 health and self-help guides designed to help people make smarter choices about their care.
Summary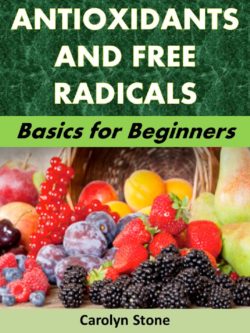 Author Rating





Eternal Spiral Books
Product Name
Antioxidants and Free Radicals: What You Need To Know
Price
Product Availability