Atrial Fibrillation: What You Need to Know-A Beginner's Guide for Patients and Caregivers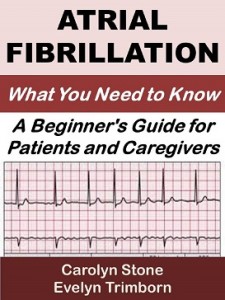 Have you seen the headlines? Top doctors and researchers have recently made some very shocking allegations against the manufacturer of the atrial fibrillation drug Pradaxa (dabigatran) in one of the most reputable online medical journals in the world. Learn the facts here:
Atrial Fibrillation is a particular type of irregular heart beat which can have dangerous consequences to your health if left untreated. People with atrial fibrillation, commonly referred to as AF or AFib, are more prone to blood clots, which can lead to heart attack, stroke or even death.
Fortunately, there are a number of effective treatments available for atrial fibrillation, including several recently approved medications, medical devices, and surgical interventions. In the fifth edition, published September 8, 2014, the authors bring you the latest research and findings on this potentially life-threatening condition, and its current treatments. You will discover:
+ What Afib is
+ What causes it
+ Who is likely to suffer from it
+ What the symptoms are of AFib
+ How AF is diagnosed
and much more.
Being diagnosed with any medical condition can be so devastating for some people that it may seem like the end of the world. Learning all you can about the disease can give you help, and hope. This guide is designed for those who have recently been diagnosed, or those who want to help support a loved one with AFib.
Knowledge is power when it comes to making the right treatment decisions in cooperation with your doctor. Learn about the most effective treatment options for AFib, including:
+ Effective lifestyle measures
+ Medications
+ Medical devices
+ Surgical options and interventions
+ Clinical trials
and more, to help you take charge of your health today.
Discover invaluable inside information on what it's like to receive and live with an implantable defibrillator, why doctors are reconsidering 'standard' approached to treating AFib, and where to find even more information to help personalize your AFib treatment plan.
You will also learn:
+ The implications of high blood pressure in relation to AFib
+ Why sleep apnea can be so dangerous for anyone, but particularly in reference to a person with AFib
+ Why diabetics need to be on the alert for AFib
and more.
Handy appendices at the back of the guide also give you:
+ The latest news, headlines and research on atrial fibrillation
+ Signs and symptoms of heart attack and stroke
+ Where to get help for your high blood pressure
+ Weight loss resources
+ Stop smoking support
+ A range of worksheets to keep you organized as you care for yourself and your family
and much more.
If you suffer from atrial fibrillation and want to improve your health, these can all be positive steps in the right direction to help treat your AFib. As with many medical conditions, time is of the essence to get your AFib under control and try to get the best results. Order now, start reading instantly, to take charge of your health today.
+++
Buy Now: Atrial Fibrillation: What You Need to Know (Health Matters)
+++
Word Count=48,039
=====
++This newest contains updates added on the latest information on atrial fibrillation.++
TABLE OF CONTENTS
INTRODUCTION
CH 1: WHO CAN BE AFFECTED BY ATRIAL FIBRILLATION?
CH 2: WHAT ARE THE SYMPTOMS OF ATRIAL FIBRILLATION?
CH 3: WHAT HAPPENS TO THE HEART WHEN ATRIAL FIBRILLATION OCCURS?
CH 4: WHAT ARE THE DIFFERENT KINDS OF ATRIAL FIBRILLATION?
CH 5: WHAT CAUSES ATRIAL FIBRILLATION?
CH 6: HOW TO PREVENT ATRIAL FIBRILLATION
CH 7: RISK OF STROKE IN ATRIAL FIBRILLATION
CH 8: A SUMMARY OF WHAT WE HAVE DISCUSSED THUS FAR
CH 9: YOUR DOCTOR'S REASONING PROCESS BEHIND DEALING WITH AND TREATING ATRIAL FIBRILLATION
CH 10: HOW IS ATRIAL FIBRILLATION DIAGNOSED?
CH 11: TREATMENTS FOR ATRIAL FIBRILLATION
+ 30 Essential Questions to Ask Your Doctor
CH 12: MEDICATIONS FOR ATRIAL FIBRILLATION
CH 13: MEDICAL DEVICES FOR ATRIAL FIBRILLATION
CH 14: SURGERY FOR ATRIAL FIBRILLATION
CH 15: ATRIAL FIBRILLATION AND OTHER HEALTH ISSUES
APPENDIX 1: AFIB IN THE NEWS
APPENDIX 2: SYMPTOMS OF STROKE
APPENDIX 3: SYMPTOMS OF HEART ATTACK
APPENDIX 4: SYMPTOMS OF HEART ATTACK IN WOMEN
APPENDIX 5: THE DASH DIET
=====
ABOUT THE AUTHORS
Carolyn Stone and Evelyn Trimborn are the authors of over more than health and self-help guides design to help readers accomplish their personal and professional goals. They have worked in consumer health publishing and continuing medical education for over 20 years.
Buy Now: Atrial Fibrillation: What You Need to Know-A Beginner's Guide for Patients and Caregivers
Summary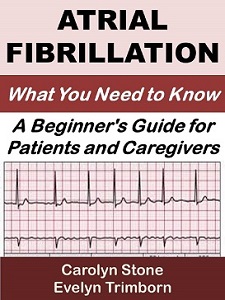 Author Rating





Product Name
Atrial Fibrillation: What You Need to Know-A Beginner's Guide for Patients and Caregivers
Price
Product Availability