Brilliant Breakfasts on a Budget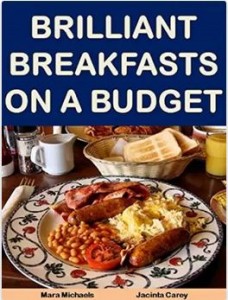 Breakfast is considered by many health experts to be the most important meal of the day. But when you are tight on money and time, it can also be the easiest meal to try to skimp on, or skip completely.
In this guide, the authors discuss the importance of breakfast, and how to have brilliant breakfasts each morning, all without breaking your budget.
Learn how to eat a balanced breakfast that will help you and your family power through your busy day, all for pennies compared with what you might be grabbing at the local fast food place or corner coffee shop.
Learn more about quick and easy breakfasts you can make and take with you as you head out the door. Find out how to make wonderful brunches economically. Discover breakfast foods from all over the globe that can help you eat well and eliminate food cravings throughout the day.
A good breakfast can help you stay slim, eat less and get more nutrition once you know how. Get started today on the path to better health and even more savings with brilliant breakfasts on a budget.
word count = 10,877
=====
Eat Better For Less Guides=Quick and easy healthy eating at home to help stretch your budget.
=====
TABLE OF CONTENTS
WHAT'S IN THIS GUIDE
INTRODUCTION
CHAPTER 1: BARGAIN BREAKFASTS ON A BUDGET
CHAPTER 2: WEEKEND BREAKFASTS AND BRUNCHES
CHAPTER 3: GETTING AWAY FROM IT ALL AT BREAKFAST
CHAPTER 4: CHOOSING A BETTER BREAKFAST
CHAPTER 5: BREAKFASTS FOR FITNESS FANATICS
CHAPTER 6: BREAKFAST ON A BUDGET RECIPES
Breakfast Bruschetta
Baked Pineapple Bacon
Breakfast Kabobs
Breakfast Mixed Vegetable Frittata
Brunch Style Waffles
Cheesy Potato & Ham Breakfast
Creamy Ham & Cheese Omelet
Crispy Baked Toast
Good Morning Granola
Make Your Own Egg Substitute
Peaches & Cream Delight
Straight from the Freezer Breakfast Wraps
Sweet Lemon Poppy Doughnuts
Top of the Morning Shake
Vanilla Blueberry Muffins
CONCLUSION
FURTHER READING
=====
ABOUT THE AUTHORS
Mara Michaels and Jacinta Carey are the authors of more than 20 guides designed to help readers live better for less. .
BUY NOW OR READ MORE: Brilliant Breakfasts on a Budget (Food Matters)
Summary
Author Rating





Product Name
Brilliant Breakfasts on a Budget (Eat Better For Less Guides)
Price
Product Availability