Business Mentoring Success Secrets: How to Find and Work With Top Professional Mentors To Boost Your Business
Discover how a business mentor can be one of the best ways to boost your business, and how to find ones who will be willing to work with you.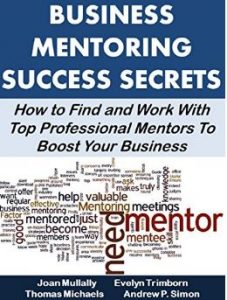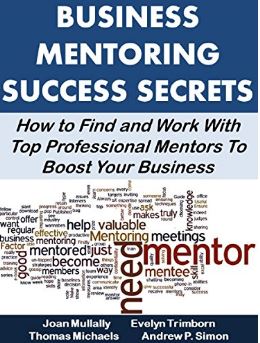 A business mentor can be one of the best ways to help you gain the knowledge and skills you need in order to start a business successfully or take it to the next level. Mentors can offer you the benefit of their experience in your industry or niche, advice you on general business matters, give you an inside look at how to run a cutting-edge company, and more.
If you are thinking of starting a business, or would like to expand but are stalled because you lack the money or the skills and expertise, a mentor can help you gain all of these and more.
In this guide to making the most of business mentoring, you will learn:
+ What a mentor is
+ Why business people in particular seek mentors
+ The many benefits of having a business mentor
+ How you can start locating mentors who might be right for you
+ The best way to approach a prospective mentor if you want them to feel eager to work with you
and much more.
There is so much to think about when you are first starting a business. With the success rate of new businesses so low (more than 75 percent will fail within five years), you want to be a success, not a sad statistic. In this guide you will discover:
+ How to set SMART goals for your business
+ How your mentor can help you achieve your SMART goals
+ Why you should consider working with a mentor if you are just starting out
+ When you should consider outsourcing certain tasks in your business
+ The best ways to work with your mentor to target your trouble areas and overcome them
+ The difference between a business mentor and a niche mentor
+ The best connections to use to land your ideal mentor.
A good mentor can help you save time, money and effort. You can learn the secrets to their success, develop new skills and become a more powerful leader in your business and your industry. Learn more about:
+ Whether an incubator is the right choice for your business
+ How to bring high-quality mentoring skills into your business without paying a penny up front
+ How to find investors that can also serve as mentors
+ How to reward mentors without spending a cent, so that they will want to keep working with you
+ How to pitch your business correctly so you do not miss out on any opportunities with great mentors or investors
and much more.
As with all of the "Matters" guides, you will get solid information and action steps to complete so you can build your business in a way that will make you the most money by focusing on your goals and learning what you need to know to take your company to the next level.
If you are suffering from a knowledge or skills gap in your business, now is the time to start looking for mentors who can help put all the pieces together to lay the foundation for an even more profitable future.
TABLE OF CONTENTS
WHAT'S IN THIS GUIDE
INTRODUCTION
CHAPTER 1: WHAT IS A MENTOR?
CHAPTER 2: THE PRIMARY BENEFITS OF HAVING A BUSINESS MENTOR
CHAPTER 3: HOW MENTORS CAN ASSIST START-UPS
CHAPTER 4: BUSINESS MENTORS VERSUS NICHE MENTORS
CHAPTER 5: CREATING YOUR LIST OF IDEAL MENTORS
CHAPTER 6: HOW YOUR LAWYER CAN HELP YOU FIND MENTORS
CHAPTER 7: WORKING WITH A MENTOR INFORMALLY
CHAPTER 8: HOW TO USE INVESTORS AS MENTORS, AND MENTORS AS POTENTIAL INVESTORS
CHAPTER 9: IS A START-UP INCUBATOR RIGHT FOR YOUR BUSINESS?
CHAPTER 10: DEALING WITH BOARD MEMBERS AND EQUITY MENTORS: MAKING THE BEST DEAL
CHAPTER 11: WAYS FOR PROTEGES TO GIVE BACK TO THEIR MENTORS
CONCLUSION
CHECKLIST OF ACTION STEPS FOUND IN THIS GUIDE
FURTHER READING
=====
ABOUT THE AUTHORS
Thomas Michaels has worked in the technology departments of some of the world's leading Fortune 500 corporations. His main interests are how to make cutting-edge technology accessible to small businesses and how to stay ahead of the curve with the ever-increasing speed of change in the ecommerce, mobile and social media worlds. He is a frequent contributor to InsiderSecretsCorp.com on key topics related to technology, business and finance. He is fascinated with Google's many products and his mission is to keep an eye on their latest trends.
Evelyn Trimborn is a freelance journalist and writer and the authorof over 50 titles relating to business, finance and personal development.
Andrew has worked for some of the top Fortune 500 companies and has had as many as 25 people reporting to him directly in his departments.
All three authors have benefited from the mentorship of Joan Mullally in reference to teaching, writing, publishing, marketing, computer skills and Internet skills. Joan is one of the main consultants for Accent Marketing Group Inc. and has served as an educator in a variety of capacities. She is the author of over 60 self-improvement and marketing guides and the chief editor of the AccentMarketingGroupinc.com blog.
Buy Now: Business Mentoring Success Secrets
Summary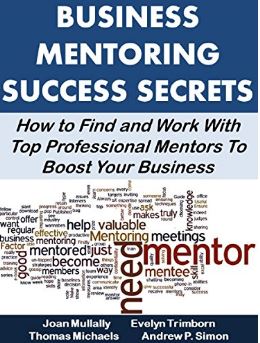 Author Rating





Product Name
Business Mentoring Success Secrets: How to Find and Work With Top Professional Mentors To Boost Your Business
Price
Product Availability