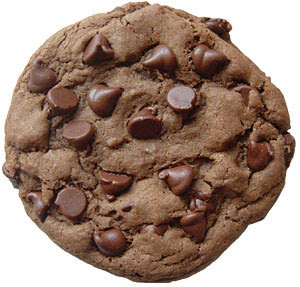 Chocolate Chocolate Chip Cookies
Here is an easy and tasty recipe from the kitchen of Carolyn Stone. Enjoy!
2 cookie sheets
vegetable oil or cooking spray or cooking parchment
2 1/4 cups all purpose flour
1 teaspoon baking soda
1 dash salt
2 sticks butter, softened
1/2 cup granulated white sugar
1 cup packed brown sugar
2 large eggs, beaten
1 tablespoon vanilla extract
1/2 cup unsweetened cocoa powder, such as Hershey's
2 cups semi-sweet chocolate chips
1 cup chopped walnuts (optional)
Preheat oven to 375F.
Lightly grease the cookie sheets with a little vegetable oil or cooking spray, or line the sheet with cooking parchment. Set aside.
In a large glass bowl, sift together the flour, baking soda, and salt.
In a second large bowl, using a pastry cutter or hand mixer or two forks, cream together the butter with both sugars.
Add the cocoa and stir well.
Gradually fold the flour mixture into the butter mixture and blend until combined.
Stir in the chocolate chips and the walnuts, if desired.
Drop the dough by tablespoonfuls onto your prepared cookie sheets.
Bake about 10 minutes for soft batch cookies, to 12 to 14 minutes for a firmer cookie. Do not allow to burn.
Cool on a wire baking rack.
If you and the family wish to eat them warm, let them cool for about 30 minutes so they do not burn young mouths.
Variations
Use dark chocolate chips instead of semi sweet, for a richer taste.
Use milk chocolate chips for a lighter taste.