Presenting online webinarscan help you start your own business or create an entirely new stream of income for your existing business, to help transform your life as you gain new leads and inject new profits into your company.
Webinars are one of the hottest new trends on the Internet for marketers and educators alike. Online education is booming, both formal and informal. Webinars can be one of the best ways online to showcase your talent so you can stand out as an authority in your niche or industry. Presenting a successful webinar can help you:
+get more subscribers to grow your email marketing list;
+sell more products;
+teach your eager audience a valuable new skill;
+keep all your life coaching clients on the same page;
and much more.
But we know it can be a scary thought to go live with a group of strangers online. That is why we've created a free ecouse, and a comprehensive guide, to help you start presenting successful webinars even if you are not a technical genius.

But as you have guessed, you can't just offer a webinar and hope people will turn up. You will also discover a range of ways to promote your free or paid webinar in order to increase your professional profile and build awareness of your business or you as a professional online.
If you have valuable skills that people want to learn, presenting successful webinars might be one of the best ways to reach your target audience, not only in your own neighborhood, but all over the world thanks to the Internet. Great webinars can position you as an authority in your niche worth paying attention to and doing business with.
If you love helping people become their best self, offering instructional webinars can be an excellent way to assist people in achieving their goals and reaching your own at the same time.
Here's to this being your best year yet!
FURTHER READING
Summary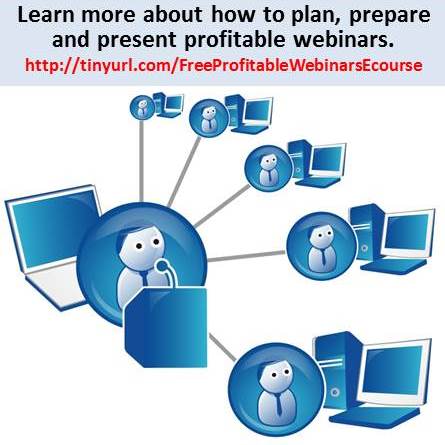 Article Name
Could Presenting Online Webinars Increase Your Income?
Description
Presenting successful free and paid webinars can bring all new streams of income to your business.
Author