PLR 101
Certificate
% of quiz marks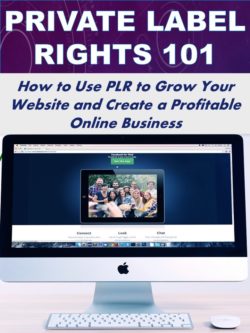 Private Label Rights (PLR) is one of the best-kept secrets in the online marketing world. It can make all the difference between success and failure. Never was this more apparent than in the logging boom of 2007. WordPress and other blogging platforms became available at that time, and suddenly everyone wanted a weB log or Blog.
The trouble is that while it is easy to start a blog thanks to WordPress, it is very difficult to maintain one unless you have a considerable amount of content and are willing to work consistently at your blog. The fact is that a good blog needs to be kept up-to-date regularly. Otherwise, will go the way of all the other blogs in the elephant graveyard of abandoned blogs that overwhelmed their owner and became just another lost opportunity to make money online.
Similarly, many companies create a website and then just leave it as is. They don't add to it, which means they don't add any value for their clients.
These days, success online is all about content marketing. In other words, your content leads to traffic, social engagement and subscribers signing up for your email marketing list. It also means being able to sell high-quality information products and make a profit.
If you're just starting out in business and want your own profitable website or blog quickly that will wow your target audience, it's time to register for this course and learn all about the wonders of PLR.
Lecture 1
Introduction
Free Preview
Congratulations on registering for this course. Get ready to roll up your sleeves and start building a profitable business by mastering the secrets of PLR.
PLR is the shortcut to success you've been looking for. With time, imagination and organization, you can create an information-publishing empire that will keep growing and growing, and earning you more and more money.
Why you need PLR to sell well
It is great to be an affiliate marketer and earn a commission on products related to your niche or industry. However, you are not really going to get rich through your affiliate commissions. The only way to start making significant amounts of money online is to create your own products and keep 100% of the profits.
Creating physical product is easier than ever before thanks to modern technology. However, it is still a big commitment in terms of time, effort and sometimes money. You also have to keep track of things like picking, packing, shipping, and customer service.
The beauty of information marketing is that you can create an information product and start selling it online in a matter of minutes. You don't have to mail it out and customer service is easy through email. To get started as an online publisher, all you need is a file to sell, such as a PDF, and a button for people to click in order to make the purchase. If you have a PayPal account you can accomplish this and minutes.
Or, you might wish to go the Amazon Kindle route and make your book available there. In this case, you would need a high-quality book cover. If you are not artistic, just head over to fiverr.com to find an artist to work with.
People really do judge a book by its cover to a large extent. But of course, you need to have good content between the covers if you want to get good reviews. Good reviews are essential for good sales.
But what if you're not a great writer? In this case, it will be Private Label Rights to the rescue. PLR can be your secret weapon for generating the kind of revenue you need in order to stay in business and grow it like never before.
Read on and you will learn what PLR is, where to find good PLR for your business and how to use it to start becoming an expert in your niche.
Lecture 2
Meet the Instructor
Free Preview
Liam Michaels is an avid content marketer and the author of several courses and guides to help readers gain success online.
Joan Mullally is a PLR purchaser and publisher, and the author of more than 100 online marketing guides and courses.
Lecture 3
Course Downloads