Earth Day and Every Day: A Beginner's Guide to Green Activities and Recipes
Earth Day takes place on April 22nd every year. In this guide, the authors provide you with a wealth of ideas you can use to mark Earth Day in your own green environment.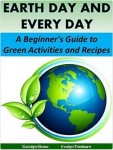 Earth Day takes place on April 22nd every year in many countries around the world, including the United States. In this guide, the authors provide you with a wealth of ideas you can use to mark Earth Day in your own green way.
Children and adults of all ages can get involved in Earth Day activities designed to raise awareness of ecological issues. You will find activities and projects that can help teach children and teens about green issues and greener choices.
Learn more about:
+ What Earth Day is
+ How communities can celebrate Earth Day
+ Activities you can do with family and friends on Earth Day
+ How to follow the Trash Trail
+ Why recycling is so crucial for our planet
+ How to make cleaner and greener choices when we shop
and much more.
As great as it is to celebrate Earth Day, you will also want to continue the lessons learned on Earth Day all year round if you want a better world for you and your family.
Discover more about key green topics, including:
+ Recycling
+ Hybrid Cars
+ Low-impact parties
+ Green weddings
+ The true cost of eating meat
+ Why to eat locally-grown produce
You will also learn more about:
+ How to start your own garden
+ How to make meatless meals to enjoy on Earth Day and Meatless Mondays, or any time you want a hearty meat-free meal
+ The hidden dangers in common baby products
+ How to avoid harmful chemicals in your pet products
+ How to camp more greenly
and much more.
You will also find "Green New Year's Resolutions" so that the lessons you learn on Earth Day can continue every day as you do your share to make our planet cleaner and greener.
If you are looking for great ways to go green and save money at the same time, this guide can help you get started today as you plan a great Earth Day celebration with your family and apply all you learn to live a cleaner, greener lifestyle now. Buy Now or read more with Kindle Unlimited
Word Count=24,700
=====
TABLE OF CONTENTS
INTRODUCTION
CHAPTER 1: YOUR EARTH DAY RESOLUTIONS
CHAPTER 2: RAISING COMMUNITY AWARENESS ON EARTH DAY
CHAPTER 3: EARTH DAY IDEAS FOR YOUR FAMILY
CHAPTER 4: WHY RECYCLE?
CHAPTER 5: WHY GOING GREEN CAN SAVE YOU SOME GREEN
CHAPTER 6: GREENER CLEANING AND GROCERY ITEMS
CHAPTER 7: GETTING CHILDREN TO EAT HEALTHIER FOODS
CHAPTER 8: THE BENEFITS OF EATING LOCALLY-GROWN FOODS
CHAPTER 9: GROW YOUR OWN VEGETABLES
CHAPTER 10: TEN IDEAS FOR A LOW-IMPACT CHILDREN'S BIRTHDAY PARTY
CHAPTER 11: GREEN WEDDINGS
CHAPTER 12: GREEN CAMPING
CHAPTER 13: HYBRID CARS
CHAPTER 14: CHOOSING SIMPLICITY INSTEAD OF CONSUMERISM
CHAPTER 15: VEGETARIAN AND VEGAN RECIPES THE WHOLE FAMILY WILL LOVE
CONCLUSION
FURTHER READING
APPENDIX 1: PRODUCT REVIEW 1
APPENDIX 2: PRODUCT REVIEW 2
APPENDIX 3: PRODUCT REVIEW 3
APPENDIX 4: PRODUCT REVIEW 4
APPENDIX 5: PRODUCT REVIEW 5
APPENDIX 6: PRODUCT REVIEW 6
APPENDIX 7: DISCUSSION: NATURAL BABY PRODUCTS
APPENDIX 8: DISCUSSION: HOW TO TELL IF YOUR PET PRODUCTS CONTAIN HARMFUL CHEMICALS
=====
ABOUT THE AUTHORS
Carolyn Stone is the author of more than 100 health and self-help guides. Evelyn Trimborn is a top health and business writer and the author of more than 50 guides designed to help readers improve their lives.
Buy Now or read more with Kindle Unlimited: Earth Day and Every Day: A Beginner's Guide to Green Activities and Recipes (Green Matters)
Summary
Author Rating





Product Name
Earth Day and Every Day: A Beginner's Guide to Green Activities and Recipes
Price
Product Availability