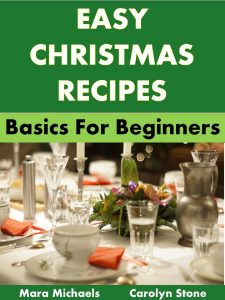 Everyone loves a good meal at Christmas, but not everyone has learned how to cook. So you either eat out or order in a lot of convenience foods and spend far more than you have to on your Christmas meal.
Even experienced cooks can struggle with putting together a full holiday meal that can cater to the eating lifestyles of every guest, such as vegetarian or vegan.
But it doesn't have to be that way. Download this guide now and discover 25 Christmas recipes easy enough for even a complete beginner cook to make, and impressive enough to have your guests think you've been slaving over a hot stove for hours. Only you have to know how simple these delicious recipes are to make.
Audience:
+Those who are hosting Christmas at home for the first time
+Readers who need cheap and easy recipes for the holidays
+Readers looking for classic, foolproof holiday menus
+Readers looking for creative new holiday ideas the whole family will love
+Cooks looking for easy and tasty vegetarian and vegan holiday-themed recipes
++++
Word Count=9,725 words
BUY NOW or READ MORE with Kindle Unlimited
++++
TABLE OF CONTENTS
What's in This Guide
Introduction
1-Shop Smartly
2-Start with Soup
3-Serve Salad
4-25 Recipes
Conclusion
Further Reading
Clickable Recipe Index
BUY NOW or READ MORE with Kindle Unlimited
+++++
ABOUT THE AUTHORS
Carolyn Stone and Mara Michaels are the author of more than 30 food and entertaining guides.
Carolyn has been a journalist specializing in health and nutrition for over 20 years and is the author of more than 100 health and self-help titles.
http://amzn.to/2g3lpIK
Summary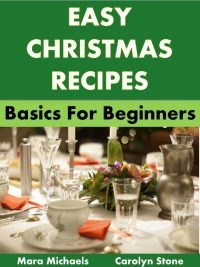 Author Rating





Product Name
Easy Christmas Recipes: Basics for Beginners
Price
Product Availability