Easy Halloween Tricks and Treats for Busy Moms
Discover a range of ways to celebrate Halloween, from spooky or natural decorations for autumn, to tasty family recipes everyone will love.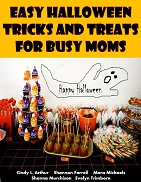 Easy Halloween Tricks and Treats for Busy Moms
Halloween should be a fun time for the entire family, but if you are a busy mom, it can be difficult to get into the 'spirit' of things because there always seems to be so much to do. This guide is designed with YOU in mind, to help serve as a checklist of the many options you have for celebrating Halloween.
You will discover:
+how to choose candy carefully to keep everyone safe, especially those with allergies
+fun alternatives to candy for your trick or treaters
+planning a party-food, drink, games, themes and venues
+special ideas for Halloween birthdays
+cheap but cheerful costumes
and much more.
Halloween can be cute, spooky, or even gruesome. Decide depending on the ages and tastes in your family. Some will love the supernatural elements of Halloween, while others will wish to focus on the more natural aspects of this autumn holiday.
Discover a range of ideas, including:
+natural and supernatural ways to mark Halloween
+spooky snacks and suppers
+recipes using nature's bounty
+cheap and easy decorations
+fun arts and crafts ideas for children of all ages
and much more.
Handy appendices help you plan your holiday gathering and stay organized. So if you're starting to dread the idea of Halloween because you always have so much to do, download a copy of this guide today to help inspire you. Then get everyone in your family on the same page about safe, sane ways to enjoy Halloween.
+++
Word Count=31,689
BUY NOW OR READ MORE WITH KINDLE UNLIMITED
++
TABLE OF CONTENTS
Introduction
Chapter 1-Choosing Candy Carefully
Chapter 2-Safe but Fun Halloween Treats
Chapter 3-Inexpensive but Effective Halloween Costumes
Chapter 4-Planning a Halloween Party
Chapter 5-Venue Ideas for Halloween Parties
Chapter 6-Holiday Safety: Protecting Your Children at Halloween
Chapter 7-Halloween Party Games
Chapter 8-Spooky Halloween Party Ideas
Chapter 9-Natural and Supernatural Halloween Celebrations
Chapter 10-Natural Things to Do for Halloween
Chapter 11-Decorating for a Natural Halloween
Chapter 12-Creative Ideas for a Halloween Birthday
Chapter 13-Halloween Decorations on a Budget
Chapter 14-Spooky Snacks and Supernatural Suppers
Chapter 15-Foods Celebrating Nature's Bounty
Chapter 16-Halloween Dessert and Centerpiece Ideas
Chapter 17-Halloween Desserts for Special Diets
Conclusion
Appendix 1: How to Make a Whale Costume Easily
Appendix 2: Keeping Track of Your Decorations
Appendix 3: Party Invitations Template and Guest Tracker
Appendix 4: Party Planner
Appendix 5: Pet Safety at Halloween
Further Reading
Index of 25 Recipes in This Guide
BUY NOW OR READ MORE WITH KINDLE UNLIMITED
+++
ABOUT THE AUTHORS
Evelyn Trimborn, Mara Michaels and Shannon Farrell are the authors of more than 100 guides on holiday entertaining and healthy eating. Cindy L. Arthur is the author of the Liam the Piglet series of books for young readers and an expert on fun recipes for young children and stretching your food budget as far as it will go in tasty ways.
FURTHER READING
Want even more Halloween ideas? Visit the Halloween Spotlight.
Summary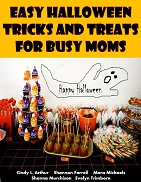 Author Rating





Brand Name
Product Name
Easy Halloween Tricks and Treats for Busy Moms
Price
Product Availability