Fast and Fun Christmas Recipes
Discover fast and fun Christmas recipes easy enough even for beginners to cook well so they can impress their family and guests at their Christmas dinner or Christmas party.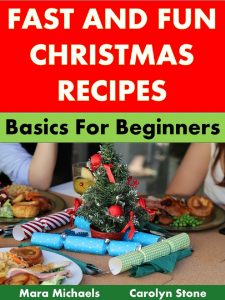 Everyone loves a good meal at Christmas, but not everyone knows how to cook, or has hours to slave over a hot stove and miss out on the fun and relaxation that is supposed to be part of getting time off from work at the holidays.
Luckily, there are many fast and fun recipes you can learn that will impress your guests without you having to spend a lot of time in the kitchen. All you have to do is mix and match them to come up with a full menu of tasty treats. Best of all, cooking yourself from scratch means you can eat healthier than ever-don't worry, we won't tell the kids if you don't!
Download this guide now and discover 25 fast and Christmas recipes that are simple enough for even a complete beginner cook to make. If you're hosting for the first time, or want to mix things up at your meal this year, try these new treats and see how fast healthy holiday eating can be.
Audience:
+Those who are hosting Christmas at home for the first time
+Readers who need fast and fun recipes for the holidays
+Readers looking for classic, foolproof holiday menus
+Readers looking for creative new holiday ideas the whole family will love
+Cooks looking for real recipes that don't call for cans of soup to be dumped all over your food
+Cooks looking for quick and tasty vegetarian and vegan holiday-themed recipes
++++++
Word Count=9,216
BUY NOW or READ MORE with Kindle Unlimited
++++++
TABLE OF CONTENTS
Introduction
What's in This Guide
Chapter 1: Menu Planning at The Holidays
Chapter 2: Healthy Christmas Treats
Chapter 3: Counting Calories, Counting Carbs
Chapter 4: 25 Christmas Recipes
Conclusion
Further Reading
++++++
BUY NOW or READ MORE with Kindle Unlimited
++++++
ABOUT THE AUTHORS
Carolyn Stone and Mara Michaels are the author of more than 30 food and entertaining guides.
Carolyn has been a journalist specializing in health and nutrition for over 20 years and is the author of more than 100 health and self-help titles.
Summary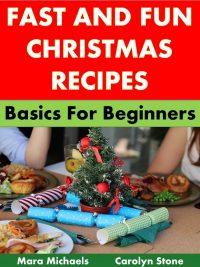 Author Rating





Product Name
Fast and Fun Christmas Recipes
Price
Product Availability