Fast and Fun Easter Recipes
Easy a quick and easy Easter feast with the help of this handy guide.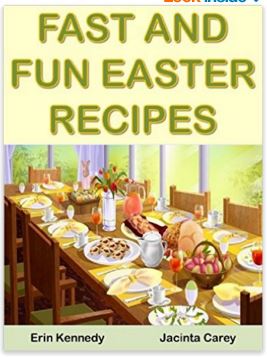 There's nothing quite like Easter and the coming of spring to get you in the mood for a delicious meal with family and friends. With the help of this guide, you can plan a full Easter dinner menu that will be easy and fun to prepare with the help of this useful guide. From soup and salads to the main entree, to drinks and desserts, you can create a memorable occasion for the whole family.
The guide includes traditional recipes that can be used for either a sit-down meal or a buffet.
From lamb or pork tenderloin as the main entree to easy-to-prepare accompaniments, you will find dishes that everyone will enjoy.
Included are special Easter desserts, including an Easy Rabbit Surprise Cake you can make yourself without straining your budget.
Festive and colorful, these dishes will brighten up any Easter dinner table. With the help of the menu ideas in Fast and Fun Easter Recipes, begin planning your Easter dinner now.
Word Count=5,700
++

Read more with Kindle Unlimited, or Buy Now: Fast and Fun Easter Recipes (Holiday Entertaining)
=====
TABLE OF CONTENTS
SYNOPSIS
APPETIZERS, SOUP AND SALADS
MAIN COURSE
SIDE DISHES
FESTIVE BREADS
DESSERTS
BEVERAGES
CONCLUSION
=====
Fast and Fun Easter Recipes Books Cover
ABOUT THE AUTHORS
Erin Kennedy is the author of a dozen self-help titles for Eternal Spiral Books. She is a frequent contributor to the popular website Guru-Goddess.com, where she also serves as an editor.
In addition to being a writer of romance novels, Jacinta Carey is an author of over three dozen personal development and self-help guides for Eternal Spiral Books.

Read more with Kindle Unlimited, or Buy Now: Fast and Fun Easter Recipes (Holiday Entertaining)
Summary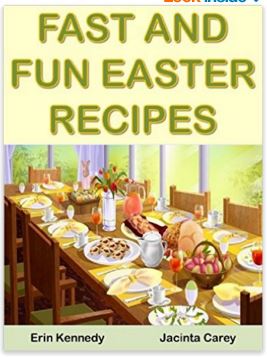 Author Rating





Brand Name
Product Name
Fast and Fun Easter Recipes
Price
Product Availability