Free Book Friday for business owners and marketers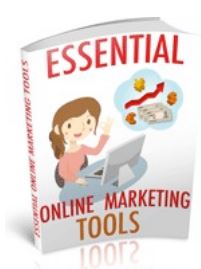 Our friend Stephen Hall recently released a handy free ebook Essential Online Marketing Tools. When we first spotted it, we thought it would be like so many other free ebooks, just a big long laundry list of what they use, but little meaty content as to what the features and benefits are.
We liked this book because by contrast, it gives detailed information on just a few select tools, and why they can be so valuable for niche marketing.
He discusses niche marketing in detail and gives a good overview of what affiliate marketing is all about. He suggests a range of easy to use tools, and why they can be so invaluable for any online business.
As online marketers ourselves for many years, we could see this was not just fluff, but information that would be of real benefit to any newcomer to online marketing. It can also serve as a handy checklist to readers on all the bases they should be covering in their marketing efforts.
Do not let the rather cute cover fool you. We are guessing he is showing it is so easy to use these tools that anyone can use them online, including young women entrepreneurs.
We can also see the information is up to date, with current trends for these top tools in 2014.  (Though of course, things are changing FAST with some of them, Google, Facebook and even Amazon, which is why it can be so hard to be an online marketer and business owner, keeping up with nonstop change and new trends.)
Best of all, he connects his ideas to Robert Kiyosaki, he of Rich Dad, Poor Dad fame, to show that anyone can succeed in business online with the range of free tools available if they are willing to take action.
Essential Online Marketing Tools is a short read, a PDF of about 35 pages, but densely packed with good information. It is a perfect starter kit for anyone thinking of beginning their own online business, or trying to boost their existing Internet website or blog.
Download your free copy of Essential Online Marketing Tools to check out all his handy advice, and feel free to share it with friends.
Here is to making 2014 your most successful yet in your business no matter what point you are at, just starting out, or struggling to make more money, or finally getting to the sweet spot of fully automated income online.
Summary
Reviewer
Review Date
Reviewed Item
Essential Online Marketing Tools
Author Rating