Great Christmas Candy Recipes
Discover 25 Christmas candy recipes that are so quick and easy, even a beginner can make them.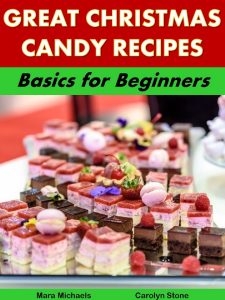 Christmas is a time for delicious food and gift-giving. Why not combine them both with some wonderful homemade candy?
Discover 25 Christmas candy recipes perfect for your whole family to enjoy. These recipes are also ideal to give as gifts. From succulent homemade fudge to decadently delightful truffles, this is the perfect recipe book for any candy lover who needs quick and easy recipes for the holidays, or any time you and your family fancy a sweet treat.
Learn how to make:
+Honey Fudge Drops
+White Chocolate Rum Fudge
+S'more Christmas Candy Squares
+Butterscotch Nut Crunches
+Candy Cane Patties
And 20 more family-friendly favorites.
You will also get detailed notes and variations to ensure each recipe is a success and will suit your family's tastes and also avoid any allergy issues.
If you've been longing for delicious, old-fashioned candy like you used to have when you were a child, download this guide now and get started making your own candy today.
Audience:
+Busy cooks who need easy candy recipes
+Newcomers to candy-making
+Readers looking for economical but impressive gifts
+++
Word count=9,169
BUY NOW or READ MORE with Kindle Unlimited
+++
TABLE OF CONTENTS
WHAT'S INSIDE THIS GUIDE
INTRODUCTION
CANDY MAKING HINTS AND TIPS
+Equipment
+Making Fudge
+Terminology
+Chocolate
25 CHRISTMAS CANDY RECIPES
CONCLUSION
A FINAL WORD ABOUT CHRISTMAS COOKING
FURTHER READING
BUY NOW or READ MORE with Kindle Unlimited
++++
ABOUT THE AUTHORS
Carolyn Stone and Mara Michaels are the author of more than 30 food and entertaining guides.
Carolyn has been a journalist specializing in health and nutrition for over 20 years and is the author of more than 100 health and self-help titles.
Summary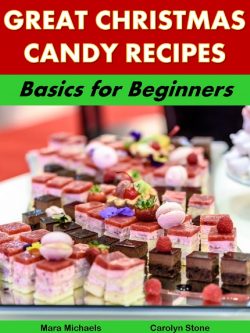 Author Rating





Product Name
Great Christmas Candy Recipes