Great Wedding Activities and Games: How to Entertain Your Guests at Your Wedding Reception and Other Wedding-Related Gatherings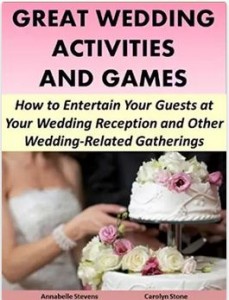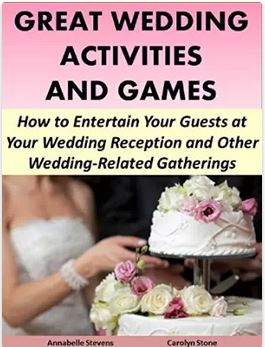 A wedding reception can be one of the most exciting parts of a thrilling wedding day for the happy couple, but time can drag on for guests at the reception if it is poorly organized and there are few things other than the usual traditions at the wedding reception to hold their interest.
From games, puzzles, activities, competitions and more, a little advanced planning can help you make your reception a cut above the average. In this guide, discover a wide range of great ideas for entertaining your guests at your wedding reception, bridal shower, and the many other wedding related functions where you might need to break the ice and make sure everyone is having a good time. You will discover:
+ Wedding toast activities
+ Cutting the cake activities
+ Throwing the bridal bouquet activities
+ Unity candle activities
+ Wedding photograph activities
+ Wedding guest book activities
and more.
Help your guests break the ice, mingle and relax with the help of other great activities at the reception, including:
+ Buffet-table activities
+ Sit-down meal activities
+ Dance floor activities.
This guide also includes activities designed for every guest, including:
+ Children's wedding activities
+ Activities for those with reduced mobility
+ Activities for more traditional guests.
Get great ideas for your wedding reception no matter when and where you have it:
+ Outdoor wedding reception activities
+ Late night wedding reception activities
+ Destination wedding activities.
Or the size and type of your wedding:
+ Large weddings
+ Small weddings
+ Family weddings.
This guide also includes activities your guests can enjoy at the other wedding-related get-togethers you might have planned. You will discover:
+ Activities for your engagement party
+ Bridal shower games and activities
+ Bachelorette party activities, both naughty and nice.
A wedding and its related activities can sometimes go on for more than just a day. Get great ideas on how to keep all your guests entertained with great activities and games at:
+ The wedding rehearsal dinner
+ Weekend weddings
+ Overnight weddings
+ Destination weddings
+ Before the wedding gatherings
+ After the wedding gatherings.
Even if you are on a tight budget, you will find activities, games and puzzle ideas for everyone.
++
Word Count=29,500
++
BUY NOW: Great Wedding Activities and Games: How to Entertain Your Guests at Your Wedding Reception and Other Wedding-Related Gatherings (Wedding Matters)

=====
TABLE OF CONTENTS
WHAT'S IN THIS GUIDE
INTRODUCTION
CHAPTER 1: ENGAGEMENT PARTY GAMES
CHAPTER 2: BRIDAL SHOWER GAMES
CHAPTER 3: NICE BACHELORETTE PARTY GAMES
CHAPTER 4: NAUGHTY BACHELORETTE PARTY GAMES
CHAPTER 5: WEDDING REHEARSAL GAMES
CHAPTER 6: PRE-WEDDING ACTIVITIES
CHAPTER 7: PRE-WEDDING RECEPTION ACTIVITIES
CHAPTER 8: UNITY CANDLE ACTIVITIES
CHAPTER 9: WEDDING RECEPTION ACTIVITIES
CHAPTER 10: BUFFET TABLE ACTIVITIES
CHAPTER 11: WEDDING PHOTO ACTIVITY IDEAS
CHAPTER 12: WEDDING GUEST BOOK ACTIVITIES
CHAPTER 13: SEATED GAMES TO PLAY AT WEDDING RECEPTIONS
CHAPTER 14: OUTDOOR WEDDING RECEPTION ACTIVITIES
CHAPTER 15: DANCE FLOOR ACTIVITIES
CHAPTER 16: WEDDING RECEPTION ACTIVITIES FOR CHILDREN
CHAPTER 17: WEDDING TOAST ACTIVITIES
CHAPTER 18: WEDDING CAKE ACTIVITIES
CHAPTER: 19: WEDDING BOUQUET ACTIVITIES
CHAPTER 20: WEDDING RECEPTION CENTERPIECE ACTIVITIES
CHAPTER 21: OVERNIGHT WEDDING RECEPTION IDEAS
CHAPTER 22: POST-WEDDING ACTIVITIES
CHAPTER 23: WEDDING WEEKEND ACTIVITIES
CHAPTER 24: DESTINATION WEDDING ACTIVITIES
CONCLUSION
FURTHER READING
=====
ABOUT THE AUTHOR
Carolyn Stone is the author of over 100 health and self-help titles and in her spare time is an experienced wedding planner.
Great Wedding Activities and Games: How to Entertain Your Guests at Your Wedding Reception and Other Wedding-Related Gatherings (Wedding Matters)
Summary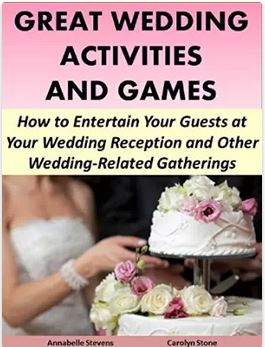 Author Rating





Brand Name
Product Name
Great Wedding Activities and Games: How to Entertain Your Guests at Your Wedding Reception and Other Wedding-Related Gatherings
Price
Product Availability