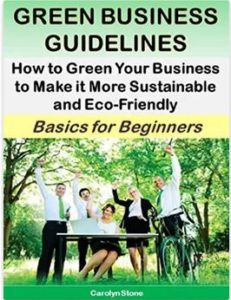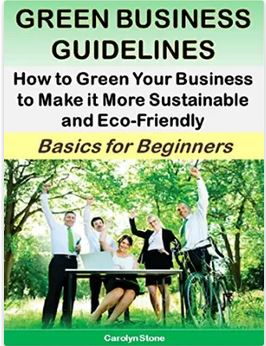 There is a revolution going on in companies all over the United States, as business owners around the country try to paint their company green. If you are concerned about saving money, and about the planet on which we live, now might be the best time to start looking at ways to make your company more eco-friendly.
Many green initiatives are all about reducing and reusing what you have, rather than indulging in over-consumption. If your company has been struggling during the on-going recession, it might be time to think about the 3Rs of conservation, Reduce, Reuse and Recycle.
If the continued increase in fuel prices is leaving you wondering how you are going to make ends meet in your business, a green audit of your company's business plan and current practices could help reveal a variety of solutions that can help you save money and become more competitive in your industry as well.
In this guide, the authors of the popular Green Matters series give you the benefit of their experience in running their own green businesses for over a decade. Every business has its own unique challenges when it comes to going green. This comprehensive guide offers a number of suggestions on how to begin where you are, and begin money-saving green initiatives effectively.
You will discover the best ways to be green in your workplace, and how to get staff to be enthusiastic about your new eco-friendly initiatives. Learn how to go green without skimping on quality or customer service and satisfaction. Discover the best ways to set goals and targets, and what to do with the money that you will save as soon as you start instituting greener practices in the workplace.
Whether you are the owner of a relatively new company, or one that has been established for many years, if your business future appears very bleak, consider putting on your green glasses today in order to look at your company and its financial prospects in a whole new light. There will be no need for rose-colored glasses if you are willing to take a realistic view of where your business is, and how you can become leaner, meaner and greener in the marketplace through effective green strategies and tactics that are sure to save you money.
If you are concerned about the pollution on the planet, or want to save instead of spend, this guide can help you start greening your business today.
Word Count=21,900
Buy Now or read more with Kindle Unlimited: Green Business Guidelines: How to Green Your Business to Make it More Sustainable and Eco-Friendly (Green Matters)
=====
TABLE OF CONTENTS
INTRODUCTION
CHAPTER 1: IDENTIFYING YOUR GREEN MISSION
CHAPTER 2: START WHERE YOU ARE
CHAPTER 3: GETTING YOUR EMPLOYEES ON THE SAME PAGE WITH YOUR NEW, GREENER COMPANY
CHAPTER 4: GOING GREEN IDEAS TO TRY – THE 3RS
CHAPTER 5: TRANSPORTATION AND SHIPPING CHOICES
CHAPTER 6: REDUCING CONSUMPTION IN THE OFFICE
CHAPTER 7: OTHER WAYS TO GREEN YOUR BUSINESS
CHAPTER 8: LONG TERM GREEN GOALS
CHAPTER 9: GOING GREEN AND YOUR MAIN BUSINESS COMPETITORS
CONCLUSION
=====
ABOUT THE AUTHOR
Carolyn Stone is the author of over four dozen health and self-help guides.
Buy Now or read more with Kindle Unlimited: Green Business Guidelines: How to Green Your Business to Make it More Sustainable and Eco-Friendly (Green Matters)
More Titles: Bookstore
Summary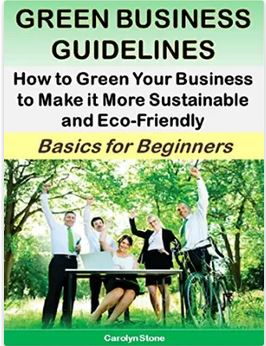 Author Rating





Product Name
Green Business Guidelines: How to Green Your Business to Make it More Sustainable and Eco-Friendly
Price
Product Availability