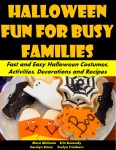 Halloween Fun for Busy Families: Fast and Easy Halloween Costumes, Activities, Decorations and Recipes
Halloween can be an exciting time of year for both children and adults, but there is no need to spend a lot of time getting ready once you use the fast and easy ideas you will find in this guide.
Every family is busy with school and work around Halloween, but that doesn't mean you have to miss out on all the fun. Decorations, Halloween arts and crafts projects, great costumes and more can all be created quickly and easily once you know how. You can also make delicious Halloween-themed recipes for a simple supper with the family, or a packed party.
In this guide you will discover:
+ Inexpensive decorations you can make to beautify your home inside and out
+ The hottest costume trends for 2015 and how you can create these great looks yourself fast
+ How to make your own clever costumes easily
+ The history of Halloween and decorations associated with it
+ Fast and fun recipes with a Halloween twist that the whole family and all of your guests will love
and much more.
Halloween is becoming a bigger holiday every year, with more and more people celebrating. Get in on the fun quickly and easily with the help of this guide. Learn how to:
+ Plan a fast and fun child's party for Halloween
+ Organize an adult Halloween party everyone will enjoy without spending hours or tons of cash
+ Arrange options besides trick-or-treating that the whole family will love
+ Program great Halloween-themed and scary films to keep everyone entertained
and much more.
Halloween decorations and recipes add just the right touch to the festivities. No matter how busy you are, you will find a range of options the whole family will love. Learn how to:
+ Decorate your pumpkin without carving it
+ Make delicious pumpkin recipes so that nothing goes to waste if you do decide to carve your pumpkin
+ Organize and prepare a wide array of healthy alternatives to candy that your family and all the neighborhood children will love as they come to your house for trick-or-treat or a party
and much more.
If your children can't wait for the spooky fun of Halloween but the main thing that scares you is how to get it all done in time, download this guide now and use it this year, and every Halloween, to help you and your whole family enjoy Halloween no matter how busy you are.
++
Word Count=20,087
+++
BUY NOW OR READ MORE WITH KINDLE UNLIMITED
+++
Table of Contents
INTRODUCTION
CHAPTER 1: Halloween Decorating Ideas for Indoors and Outside
CHAPTER 2: Helpful Hints for Halloween Pumpkin Decorating
CHAPTER 3: Halloween Costumes: What's Hot
CHAPTER 4: Great Homemade Halloween Costumes on a Budget
CHAPTER 5: How to Plan a Great Halloween Party
CHAPTER 6: How to Host a Fun Adult Costume Party
CHAPTER 7: Fun Alternatives to Trick-or-Treating
CHAPTER 8: Five Fun Movies to Watch on Halloween
CHAPTER 9: Spooky Recipes for Halloween
CHAPTER 10: Soups and Appetizers
CHAPTER 11: Main Courses
CHAPTER 12: Desserts and Drinks
BUY NOW OR READ MORE WITH KINDLE UNLIMITED
+++
ABOUT THE AUTHORS
Mara Michaels is the author of more than 30 recipe guides for frugal families. Erin Kennedy is the author of more than a dozen holiday-themed titles. Carolyn Stone and Evelyn Trimborn are the authors of more than 100 health, recipe holiday entertaining and self-help titles designed to help readers live better for less.

Jogena's eBook Directory – Your one-stop ebook spot!
Summary
Author Rating





Eternal Spiral Books
Product Name
Halloween Fun for Busy Families: Fast and Easy Halloween Costumes, Activities, Decorations and Recipes
Price
Product Availability