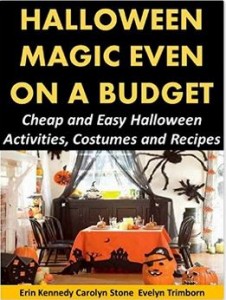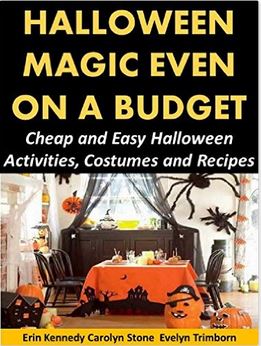 Halloween Magic Even on a Budget: Cheap and Easy Halloween Activities, Costumes and Recipes
Halloween can be an exciting time of year for children and adults alike, but you might already be dreading the date as you wonder how you are ever going to make your budget stretch to costumes, decorations and special treats such as candy, party foods and desserts. The good news is that by planning ahead, you can have a frugal but fun Halloween everyone in the family will love.
In this guide, you will discover a range of Halloween activities and recipes you can use as-is, or adapt to suit your own family's budget, ages and interests. With a bit of time, effort and ingenuity, you can make the most of what you already have in the house to create decorations and costumes without spending a lot, then store them safely and re-use them year after year, not just throw them away when the day is over.
If you love to celebrate the holidays but you don't want to feel the pinch financially, this guide will teach you how to:
+ Create inexpensive decorations you can make to beautify your home inside and out
+ How to make your own costumes by using what you already have
+ Why you need to pay special attention to toddlers' costumes at Halloween
+ Safe and fun alternatives to pumpkin carving
+ Use the downloadable lists that come with this guide to stay on top of things this year and ahead of the game next year in relation to your decorating and crafts
and much more.
Halloween is becoming a bigger holiday every year, with more and more people celebrating lavishly with expensive costumes and party foods. That doesn't mean you have to feel pressured into spending a lot. Don't miss out on the fun. Plan ahead so your frugal festivities can include a range of options, including:
+ Simple but fun and safe group activities for parties or community gatherings
+ Other activities besides trick-or-treating that the whole family will love
+ Great Halloween-themed or suspenseful movies suitable for your family and friends
+ Halloween treats for breakfast, lunch, dinner and brunch
+ Delightful desserts designed to be decorative and delicious
and much more.
Halloween can be a wonderful opportunity to celebrate and spend quality time relaxing with your family. The last thing you want to do is get stressed about money. Download this guide and learn how to:
+ Decorate your home quickly and cheaply and keep the children entertained at the same time with fun Halloween arts and crafts
+ Find great printables, homeschooling resources, entertainment pages and more
+ Organize a holiday craft table that will keep young people occupied for hours
+ Make delicious dessert recipes that will look as though you spent a fortune and taste great; only you have to know that you never went to the bakery or had it catered
and more.
If your children can't wait for Halloween but all you keep worrying about is the expense, this guide can help you get organized and stay on budget this year, and for many years to come.
BUY NOW OR READ MORE WITH KINDLE UNLIMITED
++++
WORD COUNT=30,658
++++
TABLE OF CONTENTS
INTRODUCTION
CH. 1: PLANNING A FRUGAL HALLOWEEN
CH. 2: FUN FAMILY ACTIVITIES FOR HALLOWEEN
CH. 3: HALLOWEEN FOR TODDLERS AND YOUNG CHILDREN
CH. 4: HALLOWEEN CRAFT IDEAS FOR THE WHOLE FAMILY
CH. 5: FAMILY FUN WITH HALLOWEEN DECORATIONS
CH. 6: HALLOWEEN GROUP ACTIVITIES
CH. 7: EASY AND FUN HALLOWEEN COSTUMES YOU CAN MAKE AT HOME
CH. 8: HALLOWEEN MOVIES FOR THE WHOLE FAMILY
CH. 9: FESTIVE FOOD FOR HALLOWEEN
CH. 10: HOMEMADE HALLOWEEN COOKIES AND CAKES
CONCLUSION
FURTHER READING
BUY NOW OR READ MORE WITH KINDLE UNLIMITED
+++++
ABOUT THE AUTHORS
Erin Kennedy is the author of over a dozen holiday and recipe guides for frugal families. Carolyn Stone and Evelyn Trimborn are the authors of over 100 health and self-help titles designed to help people live better for less.
Summary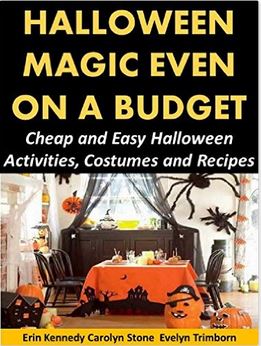 Author Rating





Eternal Spiral Books
Product Name
Halloween Magic Even on a Budget: Cheap and Easy Halloween Activities, Costumes and Recipes
Price
Product Availability