Halloween Pumpkin Recipes and Activities on a Budget
Discover a range of delicious pumpkin recipes for Halloween or any time you want a tasty pumpkin treat. Also learn how to make the most of your pumpkin with carved and uncarved ideas.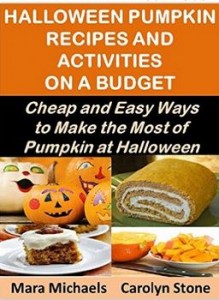 Halloween Pumpkin Recipes and Activities on a Budget: Cheap and Easy Ways to Make the Most of Pumpkin at Halloween
Nothing says Halloween quite like a fresh pumpkin. It can be used for decorations and delicious party food as well. Many people carve their pumpkins, but do not make the most of the delicious bounty of nature found inside, from the firm, tasty flesh, to the savory seeds.
In this guide, the authors offer a range of suggestions on how to make the most of your pumpkin at Halloween, so that nothing goes to waste. You will discover:
+how to plan and organize your pumpkins for Halloween, and beyond
+how to carve a pumpkin safely
+how to decorate your pumpkin without carving
+how to cut up and cook your pumpkin
+a range of recipes the whole family will love
Learn how to make the most of any pumpkin you buy, so it does not go to waste, and how you can use it for both Halloween and Thanksgiving if you plan ahead carefully.
Discover why one pumpkin is really never enough, and how these terrific fruits are a great way to feed the whole family cheaply and nutritiously and fill your freezer with fabulous foods not just for Halloween, but for the rest of the autumn and winter as well.
Pumpkin is not just good for pies. Discover a number of different types of desserts, main meals, and more, with all the recipes designed for festive meals and entertaining at Halloween. And don't worry. They're easy enough for even a complete beginner to cook.
Download this guide today and start whipping up decorations, desserts and dinners using the seasonal pumpkin, to create your best Halloween yet.
++++++
WORD COUNT=21,738
+++
BUY NOW, OR REA MORE WITH KINDLE UNLIMITED
+++
TABLE OF CONTENTS
INTRODUCTION
CHAPTER 1: Planning Your Pumpkin for Halloween
CHAPTER 2: Decorating Your Uncarved Pumpkin
CHAPTER 3: Organizing Your Pumpkin Carving and Cooking
Chapter 4: Cutting Up Your Pumpkin for a Carved Jack O'Lantern
CHAPTER 5: Cutting Up Your Pumpkin for Cooking
CHAPTER 6: Roasting Your Pumpkin
CHAPTER 7: Boiling Your Pumpkin
CHAPTER 8: Festive Pumpkin Recipes for Halloween
27 pumpkin recipes, with variations, plus 5 pantry recipes for your own pie crusts, frosting and so on
+Pies
+Seeds
+Cakes
+Other Desserts
+Candy
+Entrees
+Side Dishes
CONCLUSION
DOWNLOADABLE RESOURCES
RECIPE LIST
BUY NOW, OR REA MORE WITH KINDLE UNLIMITED
++++
ABOUT THE AUTHORS
Mara Michaels and Carolyn Stone are the authors of over two dozen recipe and holiday entertaining guides designed to help frugal families live better for less. Carolyn is also the author of over 80 health, nutrition and self-help guides, and a self-confessed pumpkin addict.
Summary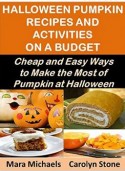 Author Rating





Brand Name
Product Name
Halloween Pumpkin Recipes and Activities on a Budget: Cheap and Easy Ways to Make the Most of Pumpkin at Halloween
Price
Product Availability