Healthy Super Bowl Snacks and Party Planner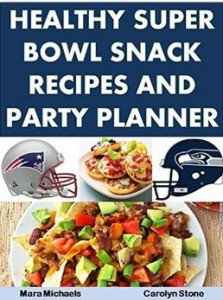 What's a Super Bowl without a party? But what about your New Year's resolutions to eat right and watch your weight? The good news is that you CAN enjoy the big game without packing on the pounds.
In this guide, the authors offer a range of healthy options to make Super Bowl Sunday great with fabulous food all your guests will love, even the calorie-conscious. From delicious homemade snacks, dips, and pizzas, to Tex-Mex style menus and food with an Asian flair, you will find mouth-watering healthy versions of many sports-fan snacks for a fraction of the cost and calories.
You will discover great recipes for burgers, hot dogs, side dishes and more. Round out the meal with succulent salads, delicious desserts and delectable drinks.  You will also get a downloadable list of essential items to help you speed through your Super Bowl Party planning in a fraction of the usual time.
No matter which team you support on Super Bowl Sunday, you and your guests will all be winners when it comes to the snacks you serve on the big day.  Save money, stay slim and discover low-calorie alternatives to your favorite take-out and fast food menu items that you can enjoy not just on Super Bowl Sunday, but for any occasion when you want food full of flavor but not crammed with calories.
+++
WORD COUNT= 15,500
++++
Designed for:
+ Busy people planning a party
+ Budget-conscious families
+ Guys and gals wanting to impress their party guests without spending a lot of time or money
+ Tailgaters looking for new easy and healthy snacks.
=====
BUY NOW
====
TABLE OF CONTENTS
INTRODUCTION
CHAPTER 1: FINGER FOODS
CHAPTER 2: SNACKS
CHAPTER 3: DIPS
CHAPTER 4: PARTY PIZZAS
CHAPTER 5: TEX-MEX FOOD AND BARBECUE
CHAPTER 6: POULTRY PLATTERS
CHAPTER 7: ASIAN-STYLE CUISINE
C?HAPTER 8: SEAFOOD AND FISH
CHAPTER 9: MEATY MEALS
CHAPTER 10: HOT DOGS
CHAPTER 11: VEGETARIAN OPTIONS
CHAPTER 12: SIDE DISHES
CHAPTER 13: SALADS
CHAPTER 14: DESSERTS
CHAPTER 15: DRINKS
CONCLUSION
FURTHER READING
DOWNLOADABLE PARTY PLANNER
======
ABOUT THE AUTHORS
Mara Michaels is a frequent contributor to the Healthful-Goddess and Nutrition-Goddess.com sites. Carolyn Stone is one of the main editors for both sites, and the author of over two dozen health and self-help titles.
Buy Now: Healthy Super Bowl Snack Recipes and Party Planner (Food Matters)
Summary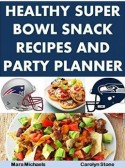 Author Rating





Aggregate Rating
Brand Name
Product Name
Healthy Super Bowl Snacks and Party Planner
Price
Product Availability