How To Transform Your Hobby Into A Home-Based Small Business
How To Transform Your Hobby Into A Home-Based Small Business teaches you how to turn your passion into a second stream of income, or even a replacement income.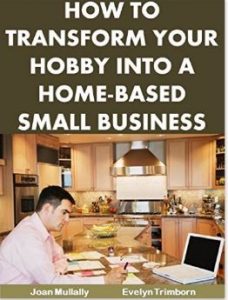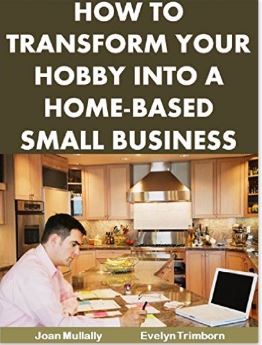 Are you looking for something more out of life? Maybe you have worked for someone else for twenty years and are longing to go into business for yourself.
You're not the only one. Thare are more than 35 million small businesses in the United States, according to Office of Advocacy estimates, which have accounted for more than 65% of the economic recovery after the recession of 2008. As people get laid off, and are unable to find new jobs, they are creating their own businesses to help make ends meet. Or as they get tired of the rat race and long to do something they are passionate about, starting their own small business makes a lot of sense.
In today's society, it is more affordable and possible to start a business of your own than ever before. In fact, with so many people having lost their jobs recently, the lure of small business ownership is greater than ever, and increasing every day.
This ebook gives you invaluable advice if you are thinking of trying to transform a hobby you enjoy into a successful home-based small business.
BUY NOW or READ MORE with Kindle Unlimited: How To Transform Your Hobby Into A Home-Based Small Business
++++
Word Count=9,500
=====
TABLE OF CONTENTS
INTRODUCTION
CHAPTER 1: TESTING THE MARKET
CHAPTER 2: GET OUT OF DEBT
CHAPTER 3: SET ASIDE YOUR EARNINGS TO INVEST IN YOUR BUSINESS
CHAPTER 4: TIME MANAGEMENT AND ATTITUDE
CHAPTER 5: SETTING UP YOUR BUSINESS; CORPORATE STRUCTURE
CHAPTER 6: SETTING UP YOUR HOME OFFICE
CHAPTER 7: TAXES
CHAPTER 8: BEING DILIGENT ABOUT BUSINESS DEDUCTIONS
CHAPTER 9: WORK AT HOME OPPORTUNITIES YOU CAN START UP FROM SCRATCH
CHAPTER 10: WORK AT HOME ISSUES TO CONSIDER
CHAPTER 11: GETTING STARTED WITH YOUR OWN SMALL BUSINESS CHECKLIST
CONCLUSION
FURTHER RESOURCES
=====
About the Authors
Joan Mullally and Evelyn Trimborn are the authors of more then 100 guides on key business and marketing topics.
BUY NOW or READ MORE with Kindle Unlimited: How To Transform Your Hobby Into A Home-Based Small Business
Summary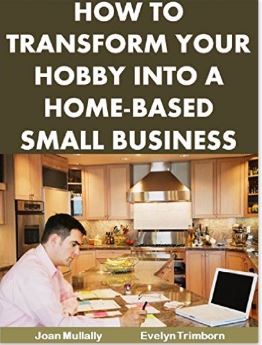 Author Rating





Product Name
How To Transform Your Hobby Into a Home-Based Small Business
Price
Product Availability