Homeschooling Your Child with ADHD: Steps to Success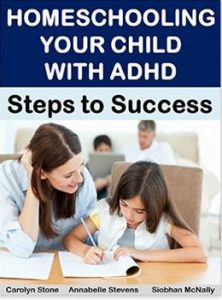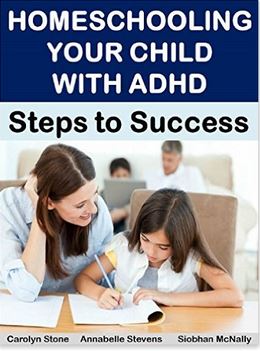 The decision to homeschool a child is never an easy one. Add your child's ADHD to the question, and you and your spouse will want to be certain that you are making the right decision for your whole family.
In this guide, the authors look at the topic of homeschooling success in detail, from deciding if homeschooling is right for your family, to how to start organizing if you decide to homeschool.
In this guide, you will learn:
+ The main reasons why people homeschool their children
+ The essential questions you and your spouse need to answer before deciding to homeschool your child
+ How to deal with other children in the family if you decide to homeschool, especially younger children
+ How to deal with negativity against homeschooling.
You will also discover:
+ How to find out your rights in your state as a parent, and exercise them in order to homeschool your child
+ The four timetables you can use for homeschooling your child, and which work best for a child with ADHD
+ The various types of homeschooling you can try
+ The difference between homeschooling and unschooling
+ The best ways to deal with the most common objections to homeschooling
and much more.
As a parent, you will want the best for your child. You will also want them to perform well academically despite their ADHD. You will naturally have some concerns about your own ability as a teacher when you homeschool your child.
In this guide you will also learn:
+ How to maintain a routine for a child with ADHD
+ How to locate other homeschooling families in your area
+ What a homeschooling co-op can do for you
+ How to make the most of your local library when homeschooling
+ The best places to find resources on ADHD
+ Effective natural treatments for ADHD
and much more.
Your decision to homeschool your child who has ADHD will be one of the most important decisions of your life, for both them and you. Start planning your future today, through either school success within the mainstream educational system, or through homeschooling your child to help them succeed academically despite their medical condition.
Regardless of whether you or your spouse did well in school or not, you can homeschool effectively starting today once you learn the best steps to take to begin on the right path towards life-long learning for your child.
Word count=28,900
=====
TABLE OF CONTENTS
WHAT'S IN THIS GUIDE
INTRODUCTION
CHAPTER 1: HOW TO TELL IF HOMESCHOOLING IS RIGHT FOR YOU CHILD AND YOUR FAMILY
CHAPTER 2: YOUR OWN EDUCATION: CAN YOU HOMESCHOOL YOUR CHILD EVEN IF YOU DID NOT DO WELL AT SCHOOL YOURSELF?
CHAPTER 3: IS IT TOO LATE TO HOMESCHOOL MY CHILD?
CHAPTER 4: HOMESCHOOLING ESSENTIALS TO CONSIDER
CHAPTER 5: ROUTINES FOR HOMESCHOOLING YOUR CHILD WITH ADHD
CHAPTER 6: MAKING A SUCCESSFUL TRANSITION FROM SCHOOL TO HOMESCHOOLING FOR YOUR CHILD WITH ADHD
CHAPTER 7: THE DIFFERENCE BETWEEN UNSCHOOLING AND HOMESCHOOLING
CHAPTER 8: SOCIALIZATION FOR THE HOMESCHOOLED CHILD
CHAPTER 9: HOW TO DEAL WITH NEGATIVITY ABOUT HOMESCHOOLING
CHAPTER 10: GETTING SUPPORT FOR YOUR HOMESCHOOLING EFFORTS
CHAPTER 11: TOP TIPS ON HOW MAKE HOMESCHOOLING FUN FOR CHILDREN
CHAPTER 12: STARTING COLLEGE AFTER HOMESCHOOLING
CONCLUSION
FURTHER RESOURCES
APPENDIX 1: THE IMPORTANCE OF ROUTINES FOR A CHILD WITH ADHD
APPENDIX 2: TOP TIPS FOR APPROACHING ADHD NATURALLY
=====
ABOUT THE AUTHORS
Annabelle Stevens and Carolyn Stone are two of the main writers and editors for the Health Matters series and the authors of more than 100 guides.
Siobhan McNally is the founder of English-Study-Buddy.com and the author of over a dozen study guides on a wide range of literature texts.
Buy Now: Homeschooling Your Child with ADHD: Steps to Success (Life Matters Book 5)
You might also like:
ADHD: A Beginner's Guide for Parents: What It Means When Your Child is Diagnosed with Attention Deficit Hyperactivity Disorder (Health Matters Book 43)
School Success Strategies for Children With ADHD: A Resource Book for Parents (Life Matters 4)
The Dangers of Artificial Coloring in Food (Health Matters)
Summary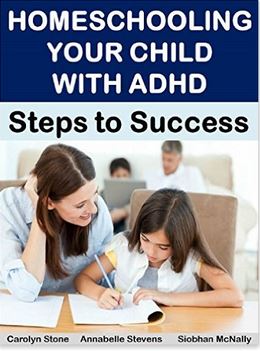 Article Name
Homeschooling Your Child with ADHD: Steps to Success
Description
Learn more about homeschooling your child successfully if they have ADHD.
Author