How To Prepare A Loving Thanksgiving Celebration At Home: Basics For Beginners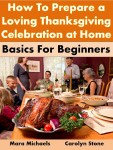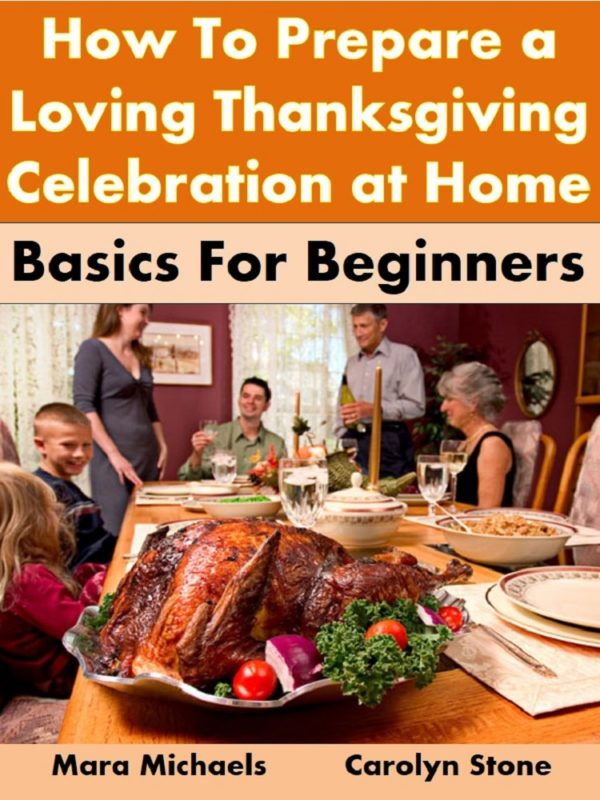 Thanksgiving is coming, and with it the expectation of a special meal with your loved ones and trying to spend quality time together as well. In this guide, you will discover a range of ways to create a memorable Thanksgiving without breaking the bank, or your battle of the bulge.
Learn how to prepare a great holiday with a focus on family, not just food. Discover how to keep the children occupied with fun arts and crafts, activities and more. Go beyond just watching football on the TV to pass the time. Discover a range of ways to entertain yourselves before, during and after the meal. Young and old alike can join in to create a memorable Thanksgiving that might even start a cherished family tradition.
Even if you have never hosted Thanksgiving at your home before, you can cook a succulent turkey with all the trimmings if you can follow simple instructions. Discover great ways to help keep children of all ages occupied while they are home from school. Use these ideas to keep them busy while you are cooking the meal. If they are old enough, they can even lend a hand.
This guide is also useful for people who might be looking to change up their usual Thanksgiving menu. Add some new sides this year, or a couple of tasty desserts for an even more sumptuous feast. You will also find vegetarian and gluten-free options so you can cater to any guest who might be becoming to your Thanksgiving dinner. Many of these recipes can also be brought as your contribution to a Thanksgiving meal at someone else's house, or a community potluck. This can be perfect if you are watching your weight at the holidays. You can bring it to share and also be sure you have something healthy and tasty to eat while you are there.
No matter where you plan to spend the holiday and how you wish to celebrate it, download this guide now and focus on family and friends, not just the food, for a loving Thanksgiving celebration everyone will remember fondly for years to come.
Audience: Beginner cooks
Cooks who have never hosted Thanksgiving before
Cooks in search of new family-favorites
Cooks in need of vegetarian, vegan, low carb and gluten-free ideas to cater to their families and everyone on their guest list
++
Word count=20,952
++
Note: All of the titles at this site can also be read as part of the Kindle Unlimited program-millions of books to read for one low monthly fee.
BUY OR READ NOW
++
TABLE OF CONTENTS
WHAT'S IN THIS GUIDE
ABOUT THE AUTHORS
INTRODUCTION
CHAPTER 1: THANKSGIVING PREPARATIONS
CHAPTER 2: THANKSGIVING DECORATIONS
CHAPTER 3: ACTIVITIES FOR OLDER CHILDREN
CHAPTER 4: ACTIVITIES FOR YOUNGER CHILDREN
CHAPTER 5: THANKSGIVING MENUS
+Clickable List of Menus
+Clickable List of Recipes
CHAPTER 6: MENU 1: TRADITIONAL RECIPES FOR THANKSGIVING
CHAPTER 7: MENU 2: A SMALL FAMILY GATHERING MENU
CHAPTER 8: MENU 3: A VEGETARIAN THANKSGIVING
CHAPTER 9: SOUP TO NUTS
CHAPTER 10: GLUTEN-FREE GOODIES
CHAPTER 11: LUSCIOUS LEFTOVERS
CHAPTER 12: BREAKFAST DESPITE THE BUSY-NESS
CHAPTER 13: ACTIVITIES FOR THE WHOLE FAMILY
CHAPTER 14: ACTIVITIES TO DO AFTER THE MEAL
CHAPTER 15: THANKSGIVING CRAFTS TO DO WITH THE CHILDREN ANY TIME
CONCLUSION
FREE MENU PLANNING ECOURSE OFFER
RESOURCES
FURTHER READING
RECIPE INDEX
++
Note: All of the titles at this site can also be read as part of the Kindle Unlimited program-millions of books to read for one low monthly fee.
BUY or READ NOW
++
About the Authors
Mara Michaels and Carolyn Stone are the authors of more than 40 cooking and holiday entertaining guides. Carolyn has worked in consumer health and nutrition and marketing for nearly 20 years. Both are busy moms always looking for ways to live better for less.
Summary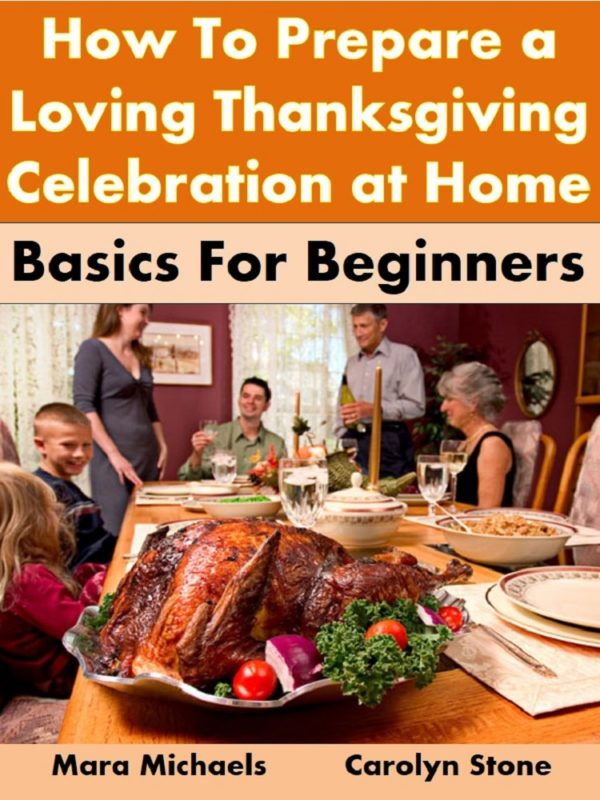 Author Rating





Product Name
How To Prepare A Loving Thanksgiving Celebration At Home: Basics For Beginners
Price
Product Availability