How to Create Successful Shopping Season Sales and Special Offers: A Guide for Beginners
Learn how to market your business more successfully during the most competitive time of year with the help of this illustrated guide.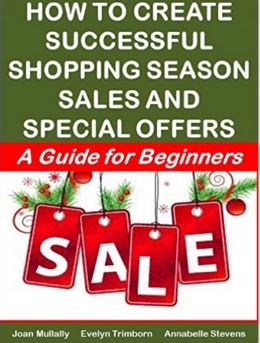 If you are a small business owner and sole proprietor, chances are you do not have an MBA in marketing and only a limited amount of resources in terms of time and money. This guide is designed to help you in on the most profitable time of the year by creating great offers your customers will be silly to refuse.
The shopping season that runs from October onwards, through Halloween, Black Friday, Cyber Monday and Green Monday through to Hanukkah and Christmas and into the New Year, can be make or break for many businesses. If you are struggling to make sales even at this busy time of year, it is time to master the art of creating exciting sales and special offers that your target customers will get so excited about, they will not be able to resist buying.
It does not matter if you are a bricks and mortar business, running a direct sales business like Avon or Tupperware, online with your own website selling a range of products, or a combination of all three. If you are able to set the price of your products and services and change them as needed to lure customers, or bundle items together into great value packs, gift baskets and more, you can create successful shopping season sales and special offers your target customers will not want to miss.
In this guide, you will learn the essentials for crafting great offers that can stand out even in a crowded market. You will learn about:
+Creating Great Holiday Sales that will impress
+Email Marketing that can stand out from the crowd during this busy season
+Discounts
+Coupons
+Special Offers
+Bundling
+Gift Baskets
and more.
Once you have created all these great items, learn the best ways to create 'buzz' to generate even more traffic and sales.
The clock is ticking. It's time to get your shopping season marketing into gear to have a successful selling season this year. The work you put in now can create the kind marketing momentum that will carry you through to your best new year yet in your business.
===
WORD COUNT=14,765
===
BUY NOW or READ MORE with Kindle Unlimited
+++
TABLE OF CONTENTS
WHAT'S IN THIS GUIDE
ABOUT THE AUTHORS
INTRODUCTION
List of Action Steps
Part 1: The Basics of Crafting Shopping Season Sales and Special Offers
Part II: Fine-Tuning Your Sales, Discounts and Special Offers
Part III: Spreading the Word About Your Offers
CONCLUSION
FURTHER READING
LIST OF WORKSHEETS TO DOWNLOAD
BUY NOW or READ MORE with Kindle Unlimited
+++
ABOUT THE AUTHORS
The authors have written over 100 guides on marketing, small business, finance, and other self-help topics designed to help readers transform their lives personally and professionally. Please visit Eternal Spiral Books to see all of their latest titles, or click on each of the author names above. See all their Marketing Matters and Business Basics for Beginners titles to gain the skills you need to succeed.
Summary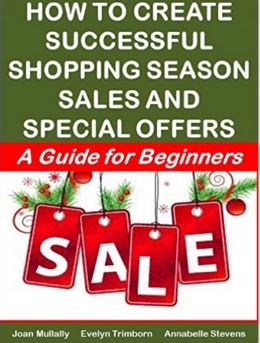 Author Rating





Brand Name
Product Name
How to Create Successful Shopping Season Sales and Special Offers: A Guide for Beginners
Price
Product Availability