How to Develop Leadership Skills: Become an Effective Leader at Work, Home and in the Community
Learn how to improve your leadership skills in order to achieve greater responsibility in the workplace, community and when working with young people.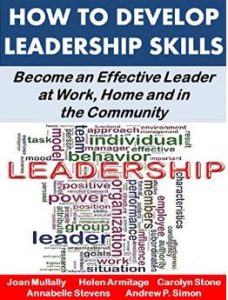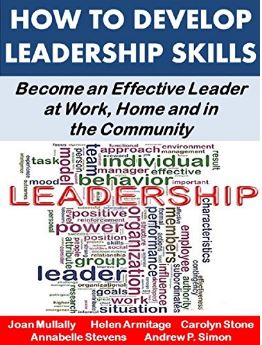 Are effective leaders born, or made? If you feel your talents and skills can be put to best use in a leadership role, this guide will help you discover whether you are ready for the challenges and responsibilities.
Learn how to lead in your workplace and amongst your peers. Discover the characteristics that many great leaders have in common and how you can start to develop your talents and abilities to help gain an executive role in your chosen industry or in the wider community.
You will also discover how to lead young people and the best ways to cultivate leadership in others, including teens and younger children, both in your home, and in a variety of settings.
This guide is packed full of action steps, self-assessment worksheets and hands-on advice in order to help you prepare for a wide range of leadership situations. If you are tired of losing out on promotions to other people or missing opportunities to show your executive qualities, this guide can help you enhance your skills as you work your way through each exercise.
Great leaders are sometimes born, but more often, they are made through the opportunities they create for themselves through self-awareness, effort and all they have to offer others. Use this guide to achieve your aspirations to leadership level and benefit yourself and everyone you will be helping.
In this economy in particular, we need leadership and sound strategies for bettering the lives of the millions who are suffering because of the current ongoing recession. It is great to feel hope, but hope is not a strategy you can implement and measure. Use this guide to help your business and family not only survive, but thrive, and not miss out on any opportunities to work to grow in leadership skills and achieve results.
Word Count=38,400
Buy Now or Read More with Kindle Unlimited
=====
TABLE OF CONTENTS
WHAT'S IN THIS GUIDE
INTRODUCTION
PART I: LEADERSHIP OVER ADULTS
CHAPTER 1: THE COMMON CHARACTERISTICS OF EFFECTIVE LEADERS
CHAPTER 2: HOW TO DEVELOP LEADERSHIP SKILLS IN RELATION TO ADULTS
CHAPTER 3: HOW TO BE A SUCCESSFUL LEADER IN THE WORKPLACE
CHAPTER 4: LEADERSHIP AND THE BURDEN OF RESPONSIBILITY
CHAPTER 5: YOUR PERFORMANCE AS A LEADER
CHAPTER 6: THE DIFFERENCE BETWEEN LEADERSHIP AND MANAGEMENT
PART II: LEADERSHIP OVER YOUTHS
CHAPTER 7: TEACHING YOUTH AND YOUNG ADULTS TO BE LEADERS
CHAPTER 8: HOW TO BE A LEADER FOR CHILDREN
CHAPTER 9: HOW LEAD TEENAGERS
CHAPTER 10: HOW TO BE AN EFFECTIVE LEADER IN YOUR OWN FAMILY
CHAPTER 11: NURTURING A CHILD WITH STRONG INNATE LEADERSHIP SKILLS
CONCLUSION
FURTHER READING
RESOURCES
=====
Buy Now or Read More with Kindle Unlimited
ABOUT THE AUTHORS
Carolyn Stone is one of the main writers and editors for Healthful-Goddess.com, and the author of a range of health and self-help titles.
Annabelle serves as an editor and writer for InsiderSecretCorp.com and is the author of over two dozen self-help guides on a range of topics dealing with finance, health and self-improvement.
Helen is a writer for the GuruGoddess.com website and has taught humanities and worked as a school counselor for a variety of age groups for over ten years.
Andrew has worked for some of the top Fortune 500 companies and has had as many as 25 people reporting to him directly in his departments.
Summary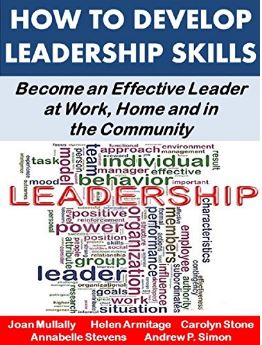 Author Rating





Product Name
How to Develop Leadership Skills: Become an Effective Leader at Work, Home and in the Community
Price
Product Availability