We tend to make excuses to avoid our workouts at the best of times, but the summer can be a killer, literally, if we don't watch our workouts in the warm weather. Fortunately, there are a number of ways to work out safely even during the dog days of summer, if you plan ahead. Here are a few pointers from Carolyn Stone, who has been working in consumer health and continuing medical education for the past 20 years.
1-Exercise during the coolest parts of the day. Try to get up before the sun is up, or work out when it has gone down.
2-Work out indoors, with the a/c and a direct fan on.
3-Slather on the sunscreen. Apply at least 30 minutes before and every 30 minutes that you are outside sweating.
4-Don't be fooled by a cloudy day-you can still get sunburn and heat stroke.

5-Watch it by the water. Sunlight reflecting off the water can double the intensity of its rays.
6-Drink plenty of fluids.
7-Wear sports gear in performance fabrics. They will wick away moisture and prevent chafing. Some of them will also repel the rays of the sun. They are ideal for anyone worried about skin cancer.
8-If you feel dizzy or strange when working out, get into a shady spot and drink water. Watch for any signs of heat stroke.
Exercise should be fun and keep you healthy all year around, even in summer. Hopefully these few tips can help you stay safe.
FURTHER READING
Safety In the Sun for the Whole Family: A Guide to Safety at the Beach and During Other Outdoor Activities (Health Matters)
How to Beat the Summer Heat: A Family Guide to Having Fun and Staying Safe This Summer (Health Matters)
Summer Fitness Fun for the Whole Family: Basics for Beginners (Health Matters Book 7)
Summary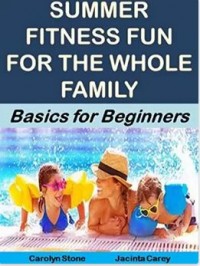 Article Name
How to Exercise Safely in Summer
Description
Learn the best ways to stay safe in summer when you are exercising.
Author