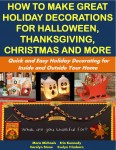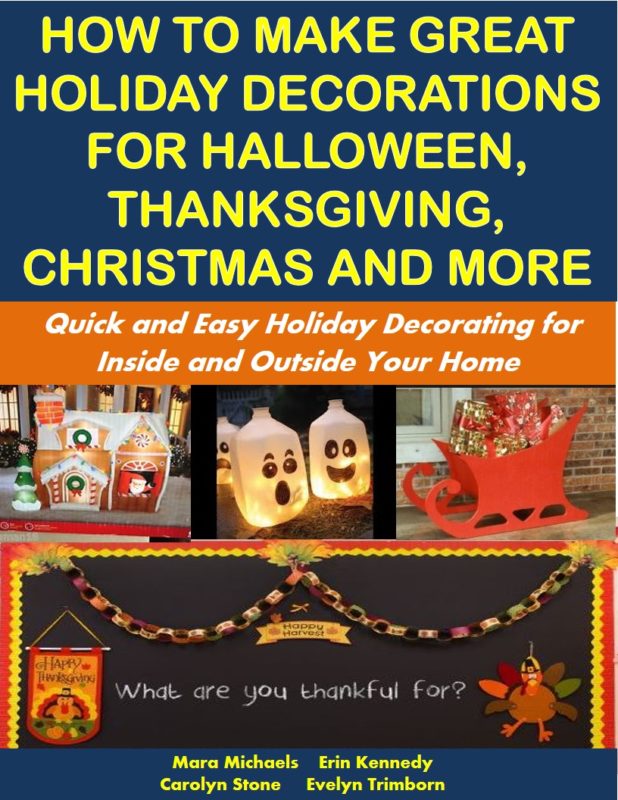 The holidays are coming, and with them the desire to decorate your home without spending a lot of money or creating a lot of waste that will just end up in the trash. Pretty decorations can add just the right touch to the holidays, especially if you are entertaining at home. They can also be green and eco-friendly if you plan ahead.
At the end of the year, from September to December and on into January, there are several major holidays that call for fun and festive decorations. Especially if you have children, you will want to find easy and attractive projects the whole family can create, but without breaking the bank.
In this guide, you will discover over 250 pages of ideas for each of the major holidays at the end of the year:
+ Halloween
+ Thanksgiving
+ Hanukkah
+ Christmas
+ New Year's Eve and Day
PLUS a range of other holidays, so you can keep the children occupied with a range of interesting and educational activities when they are home from school, or as part of your homeschooling.
The suggestions in this guide are not only frugal, they are 'green' as well. Learn to make the most of what you have and recycle or 'up-cycle' items for eco-friendly do-it-yourself decorations that will save you money and impress your guests.
In addition to the major holidays, you will also find decorating projects and resources for:
+ Harvest Festival
+ Rosh Hashanah
+ Yom Kippur
+ Sukkot
+ The Moon Cake Festival (Mid-Autumn Festival)
+ Columbus Day
+ Veterans Day
+ Kwanzaa
+ Chinese New Year (Lunar New Year)
This guide is designed for:
+ Busy and frugal parents
+ Homeschooling parents
+ Busy teachers looking for holiday-themed project ideas
+ People interested in holiday decor that is attractive, inexpensive and environmentally friendly.
Use all you learn to help you come up with a range of crafts and projects to celebrate the holidays and learn more about holidays from other cultures.
In this guide, you will also find:
+ A holiday decoration and craft preparation checklist to make the most of what you already have on hand at home
+ A downloadable holiday decoration planner so you can organize all your decorations and plan any new purchases in a strategic and frugal way
+ A downloadable craft table checklist to help you organize your supplies for all your craft projects and let your guests of all ages create their own festive crafts at your holiday gathering.
+Shopping list suggestions
Children love arts and crafts at any time of year, but the end of the year holidays can be the most fun and exciting. If you are on a tight budget and concerned about the environment, you will want to make sure that nothing goes to waste.
Download this guide and learn how to decorate your home inside and out for the holidays in a fun yet frugal way. Create unique and beautiful ornaments and other items that you can re-use over and over again which are sure to become family heirlooms.
Note: All of the titles at this site can also be read as part of the Kindle Unlimited program-millions of books to read for one low monthly fee.
BUY OR READ NOW WITH KINDLE UNLIMITED
++++
+++
Word Count=30,965
+++
Table of Contents
INTRODUCTION
CH 1: YOUR HOLIDAY DECORATION PREPARATION CHECKLIST
CH 2: HOLIDAY DECORATIONS OUTDOORS
CH 3: HOLIDAY DECORATIONS INDOORS
CH 4: BEING ECO-FRIENDLY WHEN DECORATING FOR THE HOLIDAYS
CH 5: SIMPLE HOLIDAY DECORATIONS YOUR CHILDREN CAN MAKE
CH 6: HOMEMADE WREATHS FOR EVERY OCCASION
CH 7: FAST AND FUN FALL HARVEST DECORATIONS
CH 8: EASY HALLOWEEN DECORATIONS
CH 9: HOW TO CREATE FESTIVE THANKSGIVING DECORATIONS
CH 10: CENTERPIECE IDEAS FOR YOUR THANKSGIVING TABLE
CH 11: CHRISTMAS TREE DECORATIONS
CH 12: OTHER CHRISTMAS DECORATIONS YOU CAN CREATE AT HOME
CH 13: HANUKKAH DECORATIONS
CH 14: CREATING CLEVER PARTY DECORATIONS ON A BUDGET
CH 15: EASY NEW YEAR'S DECORATIONS
CH 16: OTHER AUTUMN AND WINTER HOLIDAYS TO CELEBRATE AND DECORATE FOR
CONCLUSION
And 3 appendices
Note: All of the titles at this site can also be read as part of the Kindle Unlimited program-millions of books to read for one low monthly fee.
BUY OR READ NOW WITH KINDLE UNLIMITED
++++
ABOUT THE AUTHORS
The authors have teamed up to write more than 100 recipe, holiday, entertaining, and self-help guides designed to help readers live better for less.
Summary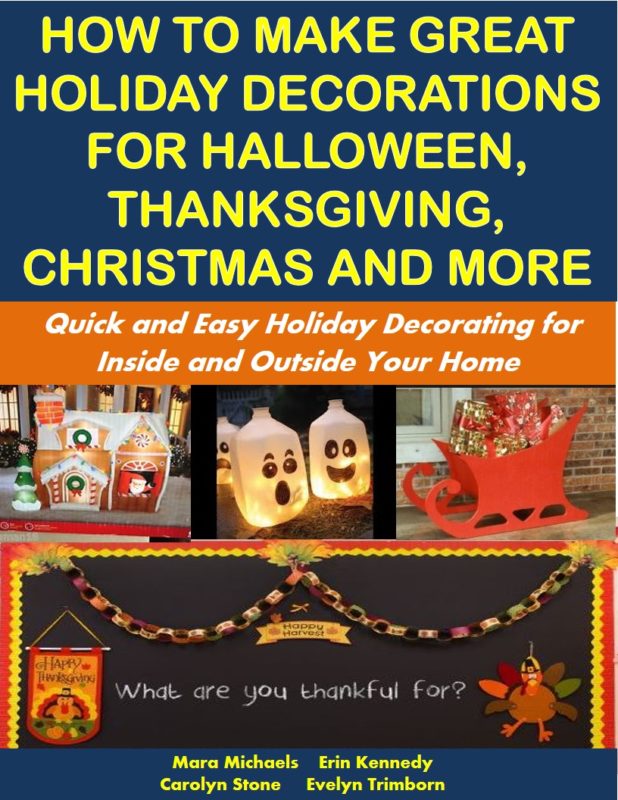 Author Rating





Eternal Spiral Books
Product Name
How to Make Great Holiday Decorations for Halloween, Thanksgiving, Christmas and More: Quick and Easy Holiday Decorating for Inside and Outside Your Home
Price
Product Availability