How to Market Your Direct Sales Business Effectively: Basics for Beginners (Marketing Matters)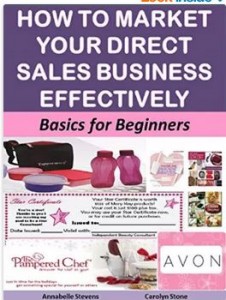 How to Market Your Direct Sales Business Effectively: Basics for Beginners (Marketing Matters)
Direct sales is one of the easiest and most profitable ways to get started running your own business. The direct sales industry is worth over $132.5 billion annually in sales worldwide. However, direct sales can also be very competitive, with sometimes stiff competition in your local area. Many people are also heading online to try to super-charge their direct sales business.
Direct sales representatives can't exist on running parties alone. You need a steady stream of eager customers and, even better, an enthusiastic downline. If you've been struggling to get your direct sales business off the ground, or started well but are worried that things are beginning to dry up, this guide was written with you in mind. With the Christmas and other end of year holidays coming, THIS is the most crucial time of the year to make your business stand out from the crowd so you can earn commission on everything your customers buy for themselves and everyone on their gift list.
In this guide you will learn:
* What marketing is
* The 5 essentials you need for marketing in direct sales
* Why direct sales can be such a great business opportunity
* The crucial elements you need to run any direct sales business successfully
* How marketing can bring your direct sales profits to a whole new level.
You will also discover:
* The top online strategies that can drive targeted, paying customers to your direct sales website
* 32 effective offline marketing techniques to adapt for your business
* How to craft your direct sale business marketing plan, and implement it
* The best ways to recruit your downline
* Ways to create effective supporting materials to help your downline sell successfully
* The most common direct sales errors, and how to avoid them.
This guide is packed full of action steps for you to apply to your own direct business to take it to the next level, starting today. If you are willing to apply what you learn, these strategies and tactics can transform flat sales into steady streams of direct sales profits.
BUY NOW: How to Market Your Direct Sales Business Effectively: Basics for Beginners (Marketing Matters)
+++
WORD COUNT=31,900
=====
ABOUT THE AUTHORS
Annabelle Stevens and Carolyn Stone are the authors of more than 100 finance, small business, health and self-help guides.
BUY NOW: How to Market Your Direct Sales Business Effectively: Basics for Beginners (Marketing Matters)
Summary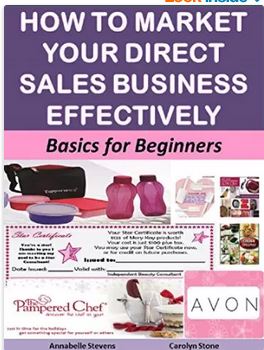 Author Rating





Product Name
How to Market Your Direct Sales Business Effectively: Basics for Beginners (Marketing Matters)
Price
Product Availability