How to Organize Successful Live Events for Marketing Purposes
Discover the best ways to organize successful local events in order to market your online or bricks and mortar business.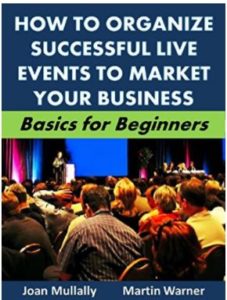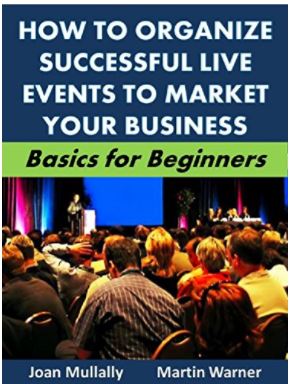 If you've ever been to a local marketing event that left you buzzing with ideas and enthusiasm, you know how exciting these occasions can be for those able to attend. If you've ever bought anything at a live event, even just a t-shirt, you will get an idea about how powerful local events can be for marketing and sales purposes.
Live events are an ideal way to show off your existing product line, or launch a new product. They are also a perfect way to add the human touch to your company. Getting out into the community to meet with existing and potential customers is an ideal way to network and generate more interest in you and your business.
If you are a bricks and mortar business owner, hosting regular local events can fill your establishment regularly and boost sales. If you are an online marketer who sells tangible goods, live local events can add a whole new stream of revenue with back of the room sales.
Are you an author? Book signings, public talks and more can all boost your book sales. Working as a coach or consultant? Show what you know at a live local event and you will soon see your schedule start to fill up with high-paying clients eager to learn more from you.
If you've been struggling with your marketing, it's time to get out from behind your computer to start participating in live events, as either a guest or host. Then see what a difference each event can make to your profits, brand and business.
+++
Word Count-9,245
PLUS a full set of downloadable worksheets AND a
free ecourse on how to market live events (4,800 words)
+++
BUY NOW OR READ THROUGH THE KINDLE UNLIMITED PROGRAM
++++
TABLE OF CONTENTS
What's in This Guide
Introduction
Chapter 1-The Benefits of Participating in a Live Event
Chapter 2-Getting Organized: Deciding on the Kind of Event to Host
Chapter 3-Planning and Preparing a Successful Live Event
Chapter 4-Setting a Budget
Chapter 5-Setting the Date, Time, Number of People and Refreshments for Your Event
Chapter 6-Organizing Your Team: Vendors, Sponsors, Speakers, Volunteers and More
Chapter 7-Countdown to the Event: Marketing and Checking Over the Venue
Chapter 8-Keeping the Event Fun; Games, Prizes, Thank You Gifts
Chapter 9-Staying Organized: Forms, Audio-visual aids, Electricity and More
Chapter 10-Hosting Profitable Webinars
Chapter 11-Thirty Essential Steps to Live Event Success
Conclusion
Resources
Downloadable Worksheets
Free 10 Lesson ecourse on Effective Ways to Market Your Live Marketing Event
Useful Links
Further Reading
List of Worksheets
+++++
BUY NOW OR READ THROUGH THE KINDLE UNLIMITED PROGRAM
++++
About the Authors
Joan Mullally and Martin Warner are the authors of more than 100 online marketing and small business guides designed to help complete beginners learn the skills they need to succeed.
Summary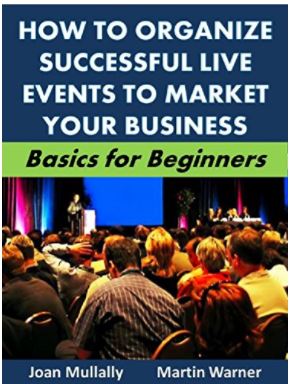 Author Rating





Brand Name
Product Name
How to Organize Successful Live Events for Marketing Purposes
Price
Product Availability