How to Paint Your House Inside and Out
Discover how to paint your own home inside and out without spending a fortune. It's easier than you think when you plan ahead and shop smart.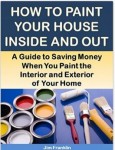 If you are thinking of painting your home for the first time, this guide will give you step-by-step instructions on how to paint your house inside and out, and save money at the same time.
Painting your apartment or house can be a great way to protect your investment, beautify your home, and add value to it, especially if you are thinking of selling your home for a profit.
Professional painters can charge a small fortune, but a rush job using the wrong paint can leave your home looking worse than ever. Painting your home yourself gives you the chance to make repairs, and do the job carefully to not only improve its appearance, but repair, refurbish and protect against future wear and tear.
In this guide you will discover:
+A detailed lists of the items you will need to buy
+What each item will be used for
+The secrets of painting preparation for your interior or exterior project
+Your fool-proof painting process for professional results
You will also learn:
+The different types of paint available, and which should be used for what purposes
+The secrets for painting the exterior of your home safely and successfully
+How to paint unusual surfaces in and around your home, to create a whole new look:
*appliances
*tile
*wood
*concrete
and more.
Learn more about how to:
+Quickly clean up after your paint jobs
+Use websites and software to plan and organize all your painting projects
+Save money when buying your paint and supplies
+Stay safe while you are painting
If you are eager to paint your home but are not sure how to start, the best methods to use, or how to stay safe and protect your home and furnishings when painting, use this guide to get you started on the path to painting and perking up your home for all new looks without paying designer prices.
++
Buy Now or Read More with Kindle Unlimited: How to Paint Your House Inside and Out
WORD COUNT=16,100
——————————
TABLE OF CONTENTS
WHAT'S IN THIS GUIDE
INTRODUCTION
CHAPTER 1: A LIST OF MATERIALS NEEDED FOR PAINTING YOUR HOME
CHAPTER 2: CHOOSING YOUR PAINT
CHAPTER 3: PAINTING SOFTWARE AND RESOURCES TO HELP YOU PLAN AND ORGANIZE YOUR PAINT JOBS
CHAPTER 4: PAINTING SAFETY GUIDELINES
CHAPTER 5: HOW TO PREPARE TO PAINT YOUR INTERIOR
CHAPTER 6: PAINTING YOUR INTERIOR
CHAPTER 7: HOW TO PREPARE TO PAINT YOUR EXTERIOR
CHAPTER 8: HOW TO PAINT YOUR EXTERIOR
CHAPTER 9: HOW TO PAINT UNUSUAL SURFACES
CHAPTER 10: FINAL HINTS TO GET THE BEST RESULTS WHEN PAINTING YOUR HOUSE
CONCLUSION
RESOURCES
CHECKLISTS
Buy Now or Read More with Kindle Unlimited: How to Paint Your House Inside and Out
——————————
ABOUT THE AUTHOR
Jim Franklin is a journalist and writer on a variety of financial topics designed to help you make the most of your money. He is the author of more than a dozen step-by-step guides on topics ranging from life insurance to the property market.

Jogena's eBook Directory – Your one-stop ebook spot!
Summary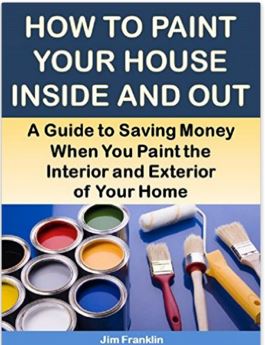 Author Rating





Brand Name
Product Name
How to Paint Your House Inside and Out: A Guide to Saving Money When You Paint the Interior and Exterior of Your Home
Price
Product Availability