New Year, Healthy New You: 365+ Tips to Improve Your Health and Fitness
Learn more about the best ways to keep you and your family fit and healthy with 365+ tips you can use to start being your best self and enjoying you best life.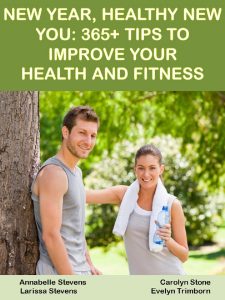 It is never too late for you to learn more about how to improve your health and fitness. Many people wonder what the best way is to improve their health, nutrition and fitness. The truth is that it is never any one single thing, but a combination of action steps that can help you eat right, get more fit, slim down and improve your health according to the personal goals you wish to set.
You can start getting more fit and healthy no matter:
+how old you are;
+what physical condition you are in at the moment;
+how busy you are at work;
+what personal commitments you have (married, with young children and so on)
+how small your budget is.
In this guide, discover 365+ tried and tested tips you can use TODAY to start improving your health. Try just a few tips from each chapter and see how much better you start to feel. Try them all, and you should be well on your way to meeting your health and fitness goals!
Don't have any health and fitness goals yet? Learn how to set them so you can start living the life you've dreamed of, full of energy and vitality, looking as well as feeling great. There's no reason to miss out on any of the things you wish to do because you don't think you are fit enough.
Learn more about:
+The best ways to stay safe and health when you travel
+How to stay safe at the holidays
+How keep the whole family healthy if you have pets
+Life-saving strategies for allergy and asthma sufferers
+Top tips for a healthy pregnancy
+The best ways to deal with insomnia
and much more.
No matter what the state is of your health at the moment, there is always room for improvement. And you probably also know at least one other person who might also be interested in getting more healthy! Share what you learn with friends, family and/or a workout buddy so you can get started TODAY on the road to better health for you.
+++
Word Count=33,316
BUY NOW or READ MORE with Kindle Unlimited
+++
TABLE OF CONTENTS
WHAT'S IN THIS GUIDE
ABOUT THE AUTHORS
INTRODUCTION
CHAPTER 1: TOP 12 TIPS TO START WITH
CHAPTER 2: Tips 13 through 50
+Healthy Living for Everyone
+Allergies and Asthma
CHAPTER 3: Tips 51 through 100
+Allergies and Asthma continued
+Healthy Blood Pressure Guidelines
CHAPTER 4: Tips 101 through 150
+First Aid Guidelines
CHAPTER 5: Tips 151 through 200
+First Aid Guidelines continued
+Holiday Health
+Mental Health
CHAPTER 6: Tips 201 through 250
+Mental Health continued
+Pet Health
+Health during Pregnancy
CHAPTER 7: Tips 251 through 300
+Health during Pregnancy continued
+Skin Care
+Caring for Teeth and Gums
CHAPTER 8: Tips 301 through 365+
+Travel Health
+Weight Loss and Weight Management
+Wellness at Work
CONCLUSION
APPENDIX: SETTING YOUR HEALTH, FITNESS AND WEIGHT LOSS GOALS
BUY NOW or READ MORE with Kindle Unlimited
+++
===
ABOUT THE AUTHORS
Carolyn Stone and Evelyn Trimborn have worked in consumer health publishing and continuing medical education for more than 20 years. They are the authors of more than 100 health and self-help titles for Eternal Spiral Books.
Annabelle Stevens is the author of more than 40 self-help titles designed to empower readers to transform their lives. Larissa Stevens is part of a new generation of health writers. When not writing, they both work as life coaches.

Jogena's eBook Directory – Your one-stop ebook spot!
Summary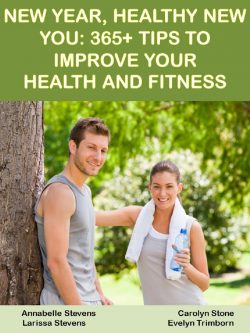 Author Rating





Product Name
New Year, Healthy New You: 365+ Tips to Improve Your Health and Fitness
Price
Product Availability