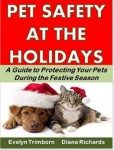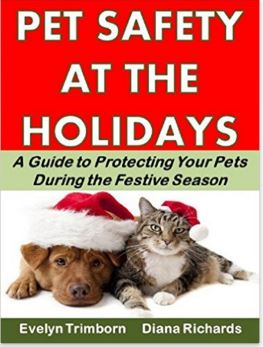 This is an eye-opening book into the many dangers lurking for pets around the holidays, including food, decorations and extreme weather. It includes information for people living in both the Northern and Southern Hemispheres, with their extremes of cold and heat as winter and summer roll in.
Keep every member of your family safe with the help of this guide. All profits will go to animal rescue, and to get a young dog some sight-saving surgery.
Pets are NOT people. Many of the delicious treats that humans enjoy around the holidays can KILL if your dog or cat gets their paws on them. Even experienced pet owners can often miss dangerous items coming into their home during the holiday season, especially if they are given as gifts. They might also underestimate how well-behaved their normally low-key pet can be during holiday celebrations with lots of guests, food and drink.
Many people also think that the holidays is the perfect time to get a new pet for the entire family to enjoy. The holidays are already stressful enough without adding even more work when you are already stretched thin in terms of time and money. With all the cooking, cleaning, and socializing, you are committed to, will any of you really have time for a new pet? And can you pet-proof the house enough to be sure your happy new animal can stay safe and well?
The first step in getting a new pet is to be as prepared for it as possible. In this guide, you will learn:
+ The best ways to plan ahead if you are thinking of adopting a pet
+ Why a pet is a bad 'present' at the holidays in most cases
+ Special toilet training considerations if you live in an area with wintry weather around the holidays
+Special considerations if you live in an area with summery weather at the holidays
New pet owners eager to give the best care possible to their new pet will want to learn these essentials sooner rather than later, to keep their pet safe at the holidays.
What if you have to go out of town to visit family and friends? Will you take your pet with you? How pet-proof is the place you will be staying? A hotel or motel might pose a few challenges, but staying with relatives can bring with it a great deal of risk you will need to be vigilant about at all times.
Have you budgeted for pet care if you have to leave them behind? Have you found the right boarding facility? Or are you going to have someone stay in your home with them, or keep them in their home? Learn the pros and cons of each of these care situations to help decide which is safest and most sensible for your pet.
In this guide, you will also learn:
+ How to prepare for traveling with your pet
+ A checklist of the best way to find a safe boarding facility for your pet
+Lists of foods and drinks at the holidays that are hazardous to dogs and cats
and much more.
The holidays can pose many perils for pets. Use this guide and the downloadable worksheets and other resources provided to care for the pets you have or are planning to get so that you can all stay safe during the Christmas, Hanukka and Kwanzaa.
Best of all, you are helping animals just by buying this guide: All the profits go directly to NYAbandonedAngels.com.
+++
Word Count=41.789
Order now: Pet Safety at the Holidays: A Guide to Protecting Your Pets During the Festive Season
+++
TABLE OF CONTENTS
ABOUT THE AUTHORS
THE CHARITY AND CAUSE WE ARE CONTRIBUTING TO
DEDICATION
INTRODUCTION
CHAPTER 1: SEASONAL PERILS FOR PETS: FOOD, DRINK AND OTHER CONSUMABLES
CHAPTER 2: SEASONAL PERILS FOR PETS: DECORATIONS
CHAPTER 3: COPING WITH COLD WEATHER AT THE HOLIDAYS
CHAPTER 4: COPING WITH HOT WEATHER AT THE HOLIDAYS
CHAPTER 5: HOLIDAY ADOPTION CONSIDERATIONS
CHAPTER 6: PET ADOPTION HINTS AND TIPS
CHAPTER 7: TIPS FOR HOUSEBREAKING YOUR PET DURING COLD WEATHER
CHAPTER 8: TIPS FOR HOUSEBREAKING YOUR PET DURING WARM WEATHER
CHAPTER 9: SAFELY TRAVELING WITH YOUR PET DURING THE HOLIDAYS
CHAPTER 10: SAFELY BOARDING YOUR PET DURING THE HOLIDAYS
CHAPTER 11: OTHER PET CARE OPTIONS DURING THE HOLIDAYS
CONCLUSION
RESOURCES
RECIPES
FURTHER READING
Order now: Pet Safety at the Holidays: A Guide to Protecting Your Pets During the Festive Season
Summary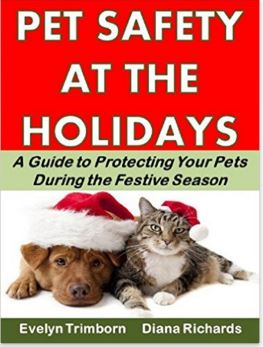 Author Rating





Eternal Spiral Books
Product Name
Pet Safety at the Holidays: A Guide to Protecting Your Pets During the Festive Season
Price
Product Availability