How to Keep Your Pets Safe in Summer and Warm Weather: Basics for Beginners
Warm weather isn't just dangerous for humans. The heat of summer can make pets ill, and even kill. Learn how to keep your dogs, cats, rabbits and other animals safe in the heat.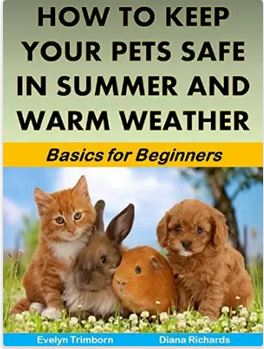 The heat of summer can be deadly for pets if you do not take precautions to keep them safe. This guide discusses what you need to know to keep your pets protected in warm weather.
Dogs have special needs in the summer that need to be taken care of in order to avoid any heat-related illnesses. Cats, birds, rabbits, and pet ponies and horses can also feel the ill effects of the heat, so owners who take special precautions can help keep their pets safe.
If you live in warmer climates or are a new pet owner concerned about pet care in the hot weather, discover the best ways to keep your pets safe and help them beat the heat.
Best of all, you are helping animals just by buying this guide: All the profits from this guide will be donated to NYAbandonedAngels.com, to help even more rescue dogs get the care, medical treatment and permanent homes they need and deserve. Your support is greatly appreciated.
Buy Now: How to Keep Your Pets Safe in Summer and Warm Weather: Basics for Beginners
++++
Word Count=10,100
=====
TABLE OF CONTENTS
INTRODUCTION
CHAPTER 1: THE MAIN DANGERS TO PETS IN THE WARM WEATHER
CHAPTER 2: WALKING YOUR DOG SAFELY IN HOT WEATHER
CHAPTER 3: DOG CARE TIPS FOR A HEALTHY SUMMER
CHAPTER 4: FLEA AND TICK PREVENTION
CHAPTER 5: NATURAL OPTIONS FOR FLEA AND TICK CONTROL
CHAPTER 6: HOW TO TRAVEL SAFELY WITH YOUR PET IN HOT WEATHER
CHAPTER 7: HOT WEATHER TIPS TO PROTECT YOUR CAT
CHAPTER 8: TIPS FOR KEEPING YOUR BIRD HEALTHY THIS SUMMER
CHAPTER 9: KEEP YOUR RABBIT SAFE AND HEALTHY IN THE HOT SUMMER MONTHS
CHAPTER 10: TOP TIPS FOR KEEPING YOUR PONY OR HORSE HEALTHY THIS SUMMER
CONCLUSION
FURTHER READING
=====
ABOUT THE AUTHORS
Evelyn Trimborn is a prolific author of over 60 self-help topics and an avid animal rescue volunteer. You can view all of her titles at the Eternal Spiral Books. Diana Richards is one of the main contributors to the popular website Guru-Goddess.com on topics dealing with house and home.
Buy Now: How to Keep Your Pets Safe in Summer and Warm Weather: Basics for Beginners
Summary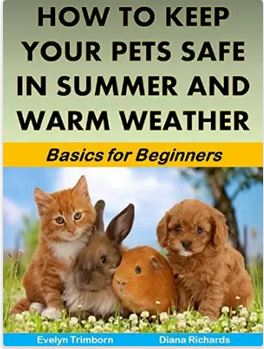 Author Rating





Product Name
How to Keep Your Pets Safe in Summer and Warm Weather: Basics for Beginners
Price
Product Availability