Questions You Need to Ask on Your Next Job Interview: Basics for Beginners
Learn the top questions you need to ask on your next job interview, plus job hunting strategies and more.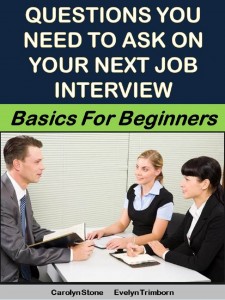 Tell the truth. How many times has this happened to you:
It's getting towards the end of the interview and everything is going GREAT. Then the interviewer suddenly asks the one question that is bound to stump most people if they are not prepared.
Suddenly, your interviewer asks if you have any questions.
This can truly be the make or break moment in your interview.
How you handle this loaded interview question will be crucial to your walking away empty-handed, versus with an offer in hand.
This practical guide covers the questions you should ask at an interview to leave a favorable lasting impression upon the people interviewing you.
It also discusses how to take control of the interview in a subtle, professional way, to see if you are a good fit for the job, and even more important, if the job is right for YOU.
The new third edition of this guide also give you a list of action steps to help you polish your resume so you can gain the all-important opportunity to go on an interview.
You will also learn:
+ How volunteering can be the gateway to a new job
+ How to gain new skills without paying for educational courses
+ How to network like a pro
+ Why you might want to go back to school to enhance your skills
+ How to use your skills to earn money through self-employment
+ How to make the most of online opportunities
and much more.
You will also get:
+ Checklists for men and women regarding appropriate attire for an interview,
+ Hints and tips on how to calm your nerves on interview
+ Key items you need to bring on interview
+ Things to watch out for once you arrive at your interview;
+ A free PDF download "Finding a Job Checklist" you can use to help keep you on task with your job hunt.
Start using this guide now to put your best foot forward to try to land the great job you deserve.
Buy Now: Questions You Need to Ask on Your Next Job Interview (Business Basics for Beginners)

++
Business Basics for Beginners-insider secrets to gain the skills you need to succeed, at an affordable price.
+++
WORD COUNT=8,150
+++
TABLE OF CONTENTS
SYNOPSIS
INTRODUCTION
TOP QUESTIONS TO ASK ON YOUR JOB INTERVIEW
STEPS TO READY YOURSELF FOR INTERVIEW SUCCESS
+UPDATE YOUR RESUME TO SHOW OFF YOUR SKILLS
+TAKE AN INVENTORY OF YOUR PERSONAL AND SOCIAL SKILLS
+UTILIZE TEMPORARY SOLUTIONS FOR FINDING WORK
+EXPLORE ONLINE EMPLOYMENT
+ACCESS ONLINE NETWORKING TO FIND A JOB
+USE VOLUNTEERING AS A MEANS OF FINDING A JOB
+CHANGING YOUR MINDSET IN ORDER TO FIND WORK MORE EASILY
+FOLLOW UP ON ANY LEADS PROMPTLY
+TAKE ADVANTAGE OF YOUR TIME OFF
CONCLUSION
FINDING A JOB ACTION STEPS LIST (With link to download free PDF as well)
APPENDIX: Interview Preparation Checklists
+Men's Interview Clothing Checklist
+Hints and Tips for Men
+Other Key Items for Everyone to Bring
+Hints and Tips for All Candidates
+Women's Interview Clothing Checklist
+Hints and Tips for Women
FREE NEWSLETTER AND GUIDES OFFER
——————————
ABOUT THE AUTHORS
Evelyn Trimborn and Carolyn Stone are the authors of more than 100 self-help books relating to business, finance, health and marketing, to help readers gain the knowledge and skills they need to transform their lives.
Buy Now: Questions You Need to Ask on Your Next Job Interview (Business Basics for Beginners)
Summary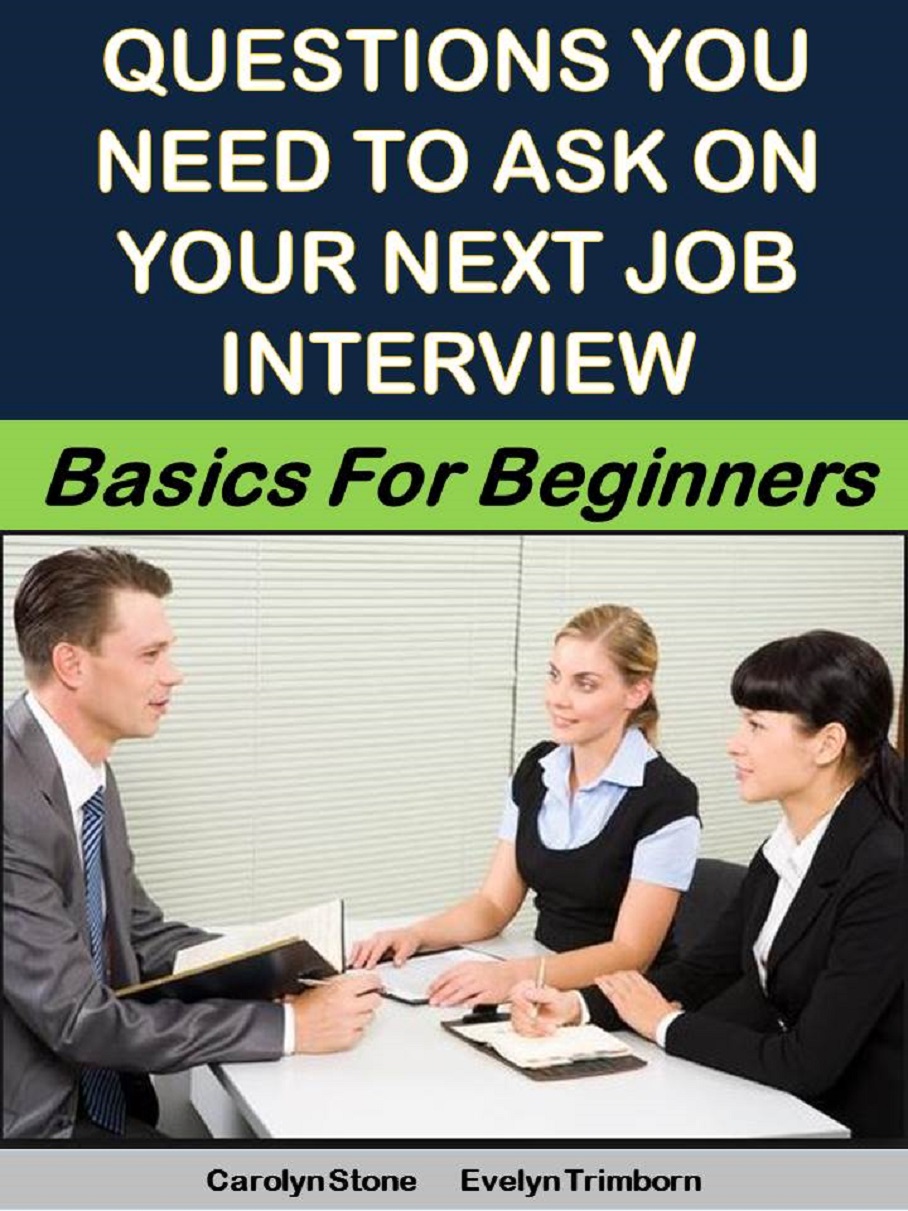 Author Rating





Product Name
Questions You Need to Ask on Your Next Job Interview: Basics for Beginners
Price
Product Availability