Saving Success: How to Save $100,000 in the Next 15 Years
Saving Success: How to Save $100,000 in the Next 15 Years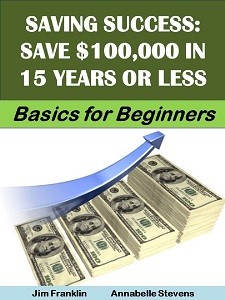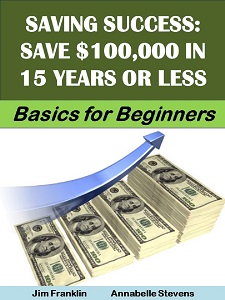 We all know how important it is to save money, but many people seldom succeed. This is often because they do not have a solid goal to aim for, and a time limit or deadline in which to reach their goal.
A fixed amount and a deadline focuses your efforts with greater precision because you know what you want, and when you plan to get it. If you've been struggling to save and longing to one day have the security of more than $100,000 savings in the bank, this step-by-step guide takes you through the process of saving success and any obstacles you might encounter along the way.
You will discover to saving success to achieve your goal of than $100,000 or more in 15 years without resorting to high-risk investments or foolish get-rich-quick schemes. You will learn about the following success strategies:
+Budgeting
+Saving
+Paying down debt
+Investing
+Dealing with taxation issues
and much more, to drive your forward with your saving success.
Learn how to:
+Set your financial priorities;
+Pay down credit card debt strategically;
+Discover your investment personality;
+Understand the miracle of compounding, and what it can mean for your financial future.
If you've been trying to slash expenses and save solidly but don't seem to get getting any closer to your goals, download this guide and take action today to overcome your obstacles and save $100,000 in the next 15 years, to transform your life and help provide you and your family with the kind of financial security and stability you've been dreaming of.
READ MORE WITH KINDLE UNLIMITED, OR BUY
+++
Word Count=19,890
++
TABLE OF CONTENTS
WHAT'S IN THIS GUIDE
INTRODUCTION
CHAPTER 1: GETTING STARTED WITH YOUR GOALS
CHAPTER 2: SOME DEFINITIONS TO HELP CLARIFY YOUR GOALS
CHAPTER 3: THE ESSENTIALS OF BUDGETING AND SAVING
CHAPTER 4: MEETING YOUR SAVINGS GOALS
CHAPTER 5: INVESTING
CHAPTER 6: UNDERSTANDING RISK AND YOUR LEVEL OF RISK TOLERANCE
CHAPTER 7: TYPES OF INVESTMENTS TO CONSIDER
CHAPTER 8: MANAGING YOUR DEBT AND STAYING OUT OF DEBT
CHAPTER 9: YOUR INCOME AND TAX SITUATION
CONCLUSION
RESOURCES
READ MORE WITH KINDLE UNLIMITED, OR BUY
++
ABOUT THE AUTHORS
Jim Franklin is the author of more than 30 personal finance guides. Annabelle Stevens is the author of more than 60 self-help titles designed to help readers transform their lives.
Summary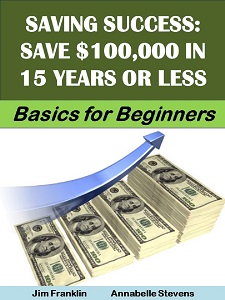 Author Rating





Brand Name
Product Name
Saving Success: How to Save $100,000 in the Next 15 Years
Price
Product Availability