Sale!
Stop Emotional Eating
$4.99 USD
Discover whether or not you are an emotional eater, and the best strategies for dealing with emotional eating, for a slimmer, healthier you.
Description
How to Stop Emotional Eating: Basics for Beginners
Emotional eating is a common problem and one of the main reasons why people start to become overweight. However, few people recognize the connections between their mood and food. Emotional eating refers to eating for reasons other than hunger. For example, if you feel stressed, do you reach for junk food, convenience food, or sweets? Then you might be an emotional eater.
In this guide for beginners, you will learn what emotional eating is, the reasons it occurs, and the relation between mood and food. You will also find a range of strategies than can break the cycle of emotional eating. You will discover:
* Why people in our society use food as a reward;
* Why so many celebrations focus on food rather than family;
* The best strategies for avoiding binge eating;
* How to lose the fat and get fit, and still eat the things you love;
and much more.
You will also discover the difference between emotional eating and other eating disorders. You will also learn:
* The best ways to handle stress in the workplace without ruining your waistline;
* Handy snacks you can take with you anywhere, to feed your hunger the healthy way;
*How to make healthier food choices no matter what the situation;
*Foods that can curb cravings;
* The three-pronged approach to successful weight loss;
* Alternative treatments for emotional eating;
and much more.
If you think you might be using food for emotional reasons, rather than simply as fuel for your body, it's time to take a look at the way you are linking mood with food and eating emotionally. Use this guide to break this link, and stop emotional eating, for a new, healthier you, starting today.
++++
Word Count=18,132

BUY NOW
++++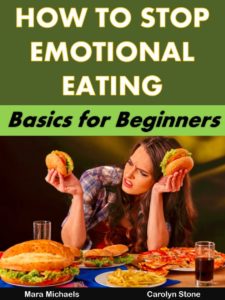 TABLE OF CONTENTS
WHAT'S INSIDE THIS GUIDE
INTRODUCTION
CHAPTER 1: WHAT IS EMOTIONAL EATING?
CHAPTER 2: THE MOST EFFECTIVE STRATEGIES TO PREVENT EMOTIONAL EATING
CHAPTER 3: COULD YOU HAVE AN EATING DISORDER?
CHAPTER 4: WEIGHT LOSS OPTIONS
CHAPTER 5: WEIGHT LOSS SURGERY
CHAPTER 6: GOOD NUTRITION FOR TREATING EMOTIONAL EATING
CHAPTER 7: CURBING CRAVINGS TO STAY ON TRACK
CHAPTER 8: ALTERNATIVE THERAPIES FOR EMOTIONAL EATING
CONCLUSION
APPENDIX 1: HEALTHY SNACK IDEAS
APPENDIX 2: HEALTHY FINGER FOODS
APPENDIX 3: MAKE YOUR OWN HEALTHY LUNCHABLES
APPENDIX 4: FABULOUS FRUITS
RESOURCES
FURTHER READING
++++++
ABOUT THE AUTHORS
Carolyn Stone and Mara Michaels have been working in the world of consumer health publishing and nutrition for more than 20 years. They are the authors of more than 160 health and self-help titles and courses designed to help readers gain the information they need in order to transform their lives.
Only logged in customers who have purchased this product may leave a review.