Summer Fashion Hints and Tips
Discover the best ways to make the most of your summer fashion budget, for you and the entire family.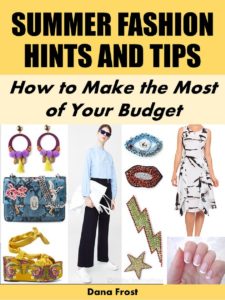 Summer Fashion Hints and Tips: How to Make the Most of Your Budget
Summer is almost here, and with it the temptation to splurge on the latest trends in summer fashion. However, a bit of strategic shopping will help you bag bargains. Discover how you can integrate a few great pieces into your wardrobe each summer, for smart saving and a wardrobe that will not go out of style too quickly or cause others to roll their eyes saying. "Oh no, she's wearing THAT again."
From beachwear and swimwear to shoes, handbags and accessories, discover what's hot and what's not in the world of summer fashion. Learn more about classic hairstyles and what the best looks are for your nails as well.
Learn more about men's and children's fashions as well, and how you can make your budget stretch to those must-have items that can brighten any wardrobe and give you a whole new look this summer.
+++
Word Count=7,177
+++
TABLE OF CONTENTS
WHAT'S IN THIS GUIDE
INTRODUCTION
CHAPTER 1: CLASSIC PIECES
CHAPTER 2: OUTDOOR FASHIONS FROM BEACH TO BACKYARD
CHAPTER 3: TRAVEL IN STYLE THIS SUMMER
CHAPTER 4: GREAT SUMMER HAIR STYLES FOR MEN AND WOMEN
CHAPTER 5: MEN'S FASHION TRENDS FOR THE SUMMER
CHAPTER 6: CHILDREN'S FASHIONS FOR SUMMER
CONCLUSION
APPENDIX 1: HOW TO SELECT CLOTHES THAT ARE SLIMMING
APPENDIX 2: 10 FASHION TIPS
APPENDIX 3: DEALING WITH TEEN FASHIONS
CONCLUSION
FURTHER READING
++
ABOUT THE AUTHOR
Dana Frost is a new designer currently working in New York City. Her clothing line embodies high-quality fabrics and flattering designs at affordable prices. She is also a fashion and beauty writer for a range of websites.
Summary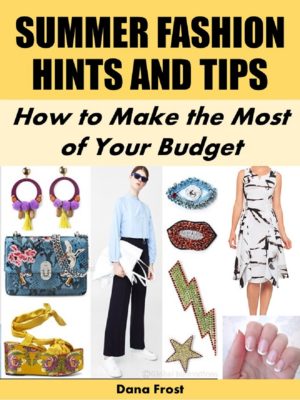 Author Rating





Product Name
Summer Fashion Hints and Tips
Price
Product Availability