Take Control of Your Cholesterol
Discover what your cholesterol numbers mean, and how you can lower your cholesterol naturally.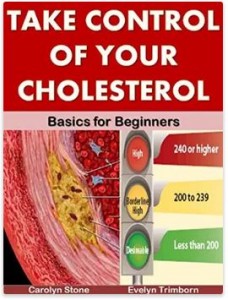 In this comprehensive guide to lowering your cholesterol naturally, the authors review cholesterol thoroughly: what it is, where it comes from, and what the effects of high cholesterol are on the body.
They then outline the best strategies for lowering your cholesterol naturally, including your eating lifestyle, activity level, and other factors that all contribute to your high cholesterol, which you can control with natural methods if you want to lower your cholesterol.
Discover over 20 natural supplements you can take to lower your cholesterol.  Learn more about the prescription cholesterol-lowering drugs your doctor might suggest if all your efforts still can't lower your cholesterol enough to bring you within the healthy range once more (learn why cholesterol is about more than just the food you eat).
Handy appendices at the back include handy diet and exercises, a tried and tested diet plan, how to stop smoking successfully guidelines, your cholesterol goal planner, and much more.
You can boost your 'healthy' cholesterol and lower your bad cholesterol starting today. Use this guide to take action now to control your cholesterol safely and naturally.
Word Count=18,900
=====
TABLE OF CONTENTS
INTRODUCTION
CHAPTER 1:  INTRODUCTION TO CHOLESTEROL
CHAPTER 2:  YOUR CHOLESTEROL TEST
CHAPTER 3:  FACTORS THAT AFFECT CHOLESTEROL
CHAPTER 4:  THE CONSEQUENCES OF HIGH CHOLESTEROL
CHAPTER 5:  CHANGE YOUR HABITS TO LOWER CHOLESTEROL
CHAPTER 6:  OTHER CHOLESTEROL LOWERING OPTIONS
CONCLUSION
RESOURCES
APPENDIX 1:  WHAT IS METABOLIC SYNDROME?
APPENDIX 2:  THE DASH DIET
APPENDIX 3:  CHOLESTEROL GOAL TRACKER
APPENDIX 4:  SAMPLE FOOD DIARY
APPENDIX 5:  FOODS THAT ARE HIGH IN CHOLESTEROL
APPENDIX 6:  FOODS THAT LOWER CHOLESTEROL NATURALLY
APPENDIX 7:  EXERCISE GOALS TO STAY FIT AND LOWER CHOLESTEROL
APPENDIX 8: WHAT ARE YOUR CHANCES OF HAVING A HEART ATTACK IN THE NEXT FIVE YEARS?
APPENDIX 9:  STOPPING SMOKING
APPENDIX 10:  CHOLESTEROL-LOWERING DRUGS
APPENDIX 11:  NATURAL HERBS AND SUPPLEMENTS THAT CAN LOWER CHOLESTEROL NATURALLY
FURTHER READING
=====
ABOUT THE AUTHORS
Evelyn Trimborn and Carolyn Stone are the authors of over 80 health and self help titles.
Buy Now: Take Control of Your Cholesterol (Health Matters)
Summary
Author Rating





Brand Name
Product Name
Take Control of Your Cholesterol