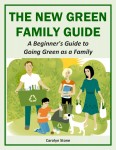 The New Green Family Guide: A Beginner's Guide to Going Green as a Family
There is no time like the present to start going green in your family. With gas prices edging up again and the global recession still holding many countries around the world in a tight grip, we could all use even more ways to save money while helping our planet at the same time.
In this guide, the popular green author is back with a guide that can help your whole family go green, even your infants and pets, through the decisions that you make as a consumer.
From busy modern moms to on-the-go dads and teens, you will learn some of the best ways to stop consuming and start conserving.
Infants and children seem to consume non-stop, from diapers and formula, to food, clothes, and supplies. Discover the best strategies for raising a greener child, and one who will want to live in their own clean, green household one day.
Let's face it: mothers make most of the household and purchasing decisions in families. But you don't have to go green alone.
You can vote for a greener world through the products you choose for you and your family. Get reviews of top products that not only do their job, but offer great value for the money.
You can also get everyone in your family to help by educating them about the choices they make. Once they learn about alternative, cleaner, greener options, everyone can do their part in the green revolution that can save you money and help the planet at the same time.
Word Count = 23,500
+++++++++
Buy Now or read more with Kindle Unlimited The New Green Family Guide: A Beginner's Guide to Going Green as a Family (Green Matters)
=====
TABLE OF CONTENTS
INTRODUCTION
CHAPTER 1: PRACTICING THE 3 RS AS A FAMILY
CHAPTER 2: GOING GREEN FOR BUSY MOTHERS
CHAPTER 3: GOING GREEN FOR BUSY GUYS
CHAPTER 4: GOING GREEN FOR TEENS
CHAPTER 5: GOING GREEN FOR BABIES
CHAPTER 6: GROWING GREEN CHILDREN
CHAPTER 7: GREEN FAMILY MEAL PLANNING
CHAPTER 8: GREEN CLEANING
CHAPTER 9: NATURAL LAWN AND GARDEN CARE
CHAPTER 10: GREEN PET CARE
CHAPTER 11: GREEN FAMILY TRAVEL
CHAPTER 12: GREEN MONEY MATTERS
CHAPTER 13: HYBRID CARS-AN OVERVIEW
CHAPTER 14: GREENER GAS MILEAGE
CHAPTER 15: CARPOOLING
CONCLUSION
APPENDIX 1: PRODUCT REVIEW 1
APPENDIX 2: PRODUCT REVIEW 2
APPENDIX 3: PRODUCT REVIEW 3
APPENDIX 4: PRODUCT REVIEW 4
=====
ABOUT THE AUTHOR
Carolyn Stone is the author of more than 100 health and self-help titles.
Buy Now or read more with Kindle Unlimited The New Green Family Guide: A Beginner's Guide to Going Green as a Family (Green Matters)
Summary
Author Rating





Product Name
The New Green Family Guide
Price
Product Availability