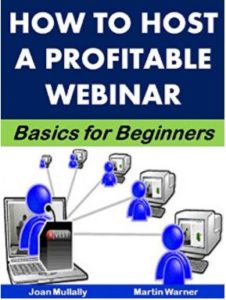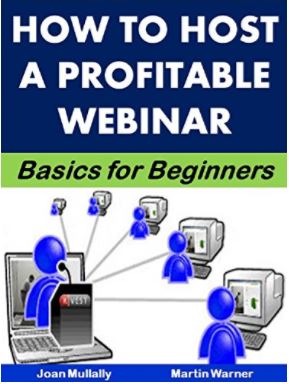 Online education and information marketing are booming. More and more people are turning to the Internet for both formal and informal education, ranging from full-fledged, accredited university courses they pay top dollar for, all the way down to interesting free courses presented via online webinar.
Webinars are one of the hottest ways to connect with your target audience IF you plan, prepare and present them well. They are also one of the fastest ways to earn money online if you promote them well and get hungry prospective customers to attend who will be eager to pay to learn more from you, the expert.
Webinars can be held in a range of formats, from more formal virtual classroom and seminars, to Google+ hangouts.They are an excellent way to connect with the prospective customers in your niche in order to earn more profits. Whether it is building brand awareness or launching and selling a new product, preparing and presenting profitable webinars online is an ideal way to add all new streams of revenue to your existing business.
Webinars can work for bricks and mortar businesses, service-based businesses, and pure online only digital information businesses. If you are knowledgeable in your niche and want to start positioning your brand or business as an authority site worth paying attention to, presenting profitable webinars can be one of the best ways to show prospective customers what you have to offer and generate more income at the same time.
Want to work as a highly-paid and respected coach or consultant? Preparing and presenting high-quality webinars will give you the kind of niche authority and name recognition you are looking for to stand out from the crowd and command top dollar.
Webinars can be delivered to small groups of 4 or 5 people, all the way up to thousands of attendees. They can be as simple as a pre-recorded presentation, up to a full multi-media experience complete with interactivity for the audience.
The main feature each of these types of webinars have in common is that they can be an excellent opportunity both to earn revenue and to position yourself as an expert in your niche, if you know how to prepare and present a profitable webinar.
In this guide, discover how to planning, prepare, promote and present you first of what we hope will be many profitable online webinars. From deciding what your audience is eager for, to the software and services available to deliver a professional-looking webinar, follow the action steps in this guide to help you avoid many of the most common mistakes new webinar presenters make. Also use the handy checklist inside this guide so you do not miss any opportunities before, during and after your webinar.
Discover how to build profit-making right into free webinars, when to host paid webinars, and how to spin off additional products and services to make even more money, If you are eager to boost your online revenue and make the most of the knowledge, information and expertise you already have, download this guide now and start preparing your first profitable online webinar to boost your business.
++
Word Count=37,598
++
BUY NOW or READ MORE through Kindle Unlimited
++
TABLE OF CONTENTS
INTRODUCTION
1: THE BENEFITS OF PREPARING AND PRESENTING WEBINARS ONLINE
2: AN OVERVIEW OF HOW TO PREPARE AND PRESENT WEBINARS ONLINE
3: PLANNING AND PREPARING YOUR ONLINE WEBINAR
4: CHOOSING THE FORMAT THAT WILL WORK BEST FOR YOU AND YOUR AUDIENCE
5: CHOOSING YOUR WEBINAR SERVICE PROVIDER
6: PLANNING, PREPARING, PRACTICING
7: 16 ESSENTIAL TIPS FOR PRESENTING IMPRESSIVE WEBINARS
8: BEST PRACTICES FOR CREATING AND PRESENTING PROFITABLE ONLINE FROM WEBINARS
9: DEALING WITH PRESENTATION ISSUES
10: WEBINAR SALES SUCCESS STRATEGIES
CONCLUSION
Plus 2 appendices
BUY NOW or READ MORE through Kindle Unlimited
++
ABOUT THE AUTHORS
Joan Mullally and Martin Warner have been marketing online for more than 20 years and are the authors of more than 100 guides designed to help new online business gain the skills they need to succeed.
FURTHER READING
Visit the Webinars Spotlight for more information.
Summary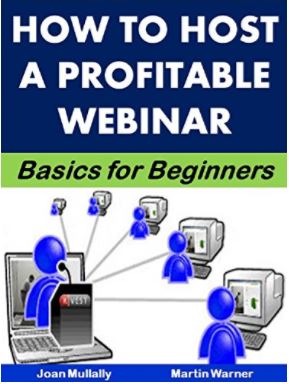 Author Rating





Eternal Spiral Books
Product Name
How to Host a Profitable Webinar: Basics for Beginners
Price
Product Availability