50 Great Ways to Celebrate Valentine's Day: Cheap and Easy Ways to Please and Impress Your Loved One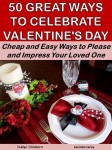 If you are romantically challenged most of the time, then coming up with a great way to spend Valentine's Day with your loved one can seem an almost impossible dream. Fortunately, help is at hand in the form of this guide on 50 ways to celebrate Valentine's Day with the one you love.
In this guide, you will learn:
+ Thoughtful gifts and surprises for your loved one even if you are on a tight budget
+ How to identify what is most romantic to your partner, to plan a gift or event that they will truly love
+ How women can spice things up with their partner for Valentine's Day
+ How men can become a "mind reader" when it comes to what their wife really wants romantically.
You will also discover:
+ How to create the perfect Valentine's Day card for your loved one
+ How little things can mean a lot on Valentine's Day, and every day with your partner if you want your love to last
+ The best ways to deepen emotional intimacy on Valentine's Day and all year round
+ 50 ways to celebrate Valentine's Day, no matter what your loved one's tastes
+ Over a dozen simple but delicious romantic recipes to share with that special someone
and much more.
If you dread the thought of another Valentine's Day in the "dog house" with your beloved, grab this guide for 50 great ways to celebrate Valentine's Day and transform, "Oh no!" into "Oh, wow!" Create magical moments you will be able to treasure for years to come by starting to plan your amazingly romantic Valentine's Day celebration now.
Buy Now: 50 Great Ways to Celebrate Valentine's Day (Holiday Entertaining)
WORD COUNT=12,600
=====
TABLE OF CONTENTS
INTRODUCTION
CHAPTER 1: THE BEST WAYS TO COMMUNICATE YOUR LOVE
CHAPTER 2: THOUGHTFUL VALENTINE'S DAY ACTIVITIES EVEN ON A BUDGET
CHAPTER 3: SPICING THINGS UP ON VALENTINE'S DAY
CHAPTER 4: LITTLE THINGS MEAN A LOT
CHAPTER 5: GETTING TO KNOW YOUR LOVED ONE BETTER
CHAPTER 6: 50 WAYS TO CELEBRATE VALENTINE'S DAY
CHAPTER 7: SIMPLE VALENTINE'S RECIPES TO TRY
CONCLUSION
APPENDIX: GREAT QUOTES RELATED TO LOVE TO USE IN YOUR CARDS AND MORE
FURTHER RESOURCES
=====
ABOUT THE AUTHORS
Jacinta Carey and Evelyn Trimborn are the authors of more than 80 non-fiction titles on a variety of holiday and self-help topics.
Buy Now: 50 Great Ways to Celebrate Valentine's Day (Holiday Entertaining)
Summary
Author Rating





Product Name
50 Great Ways to Celebrate Valentine's Day: Cheap and Easy Ways to Please and Impress Your Loved One
Price
Product Availability