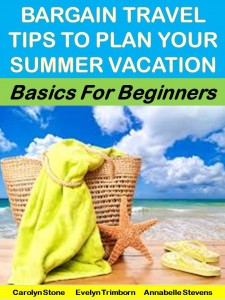 Everyone looks forward to their summer vacation, but most people have to live within a budget and a lot of people might even be asking if they can actually afford one. The secret is to start planning early in order to get great bargains on summer travel destinations, package vacations and holidays. Or, if you can't plan early, but can be flexible, to take advantage of last-minute travel bargains.
In this guide you will discover:
+ The best day to shop online for airfares
+ How to find great package deals
+ How to plan your itinerary for maximum savings
+ Where to find great last-minute travel bargains.
You will also learn:
+ The top five budget vacation destinations in the United States
+ How to create a great Staycation for your whole family
+ How to organize a gateway vacation
+ How to take advantage of the terrific social shopping trends
and much more.
This guide presents you with travel essentials from two experienced world travelers always eager for a bargain. They provide you with real-world examples on how to plan every aspect of your trip, to save money and know before you go. Learn how to make the most of your budget, no matter how large or small, to have a great summer vacation.
BUY NOW: Bargain Travel Tips to Plan Your Summer Vacation: Basics for Beginners (More for Less Book 19)
+++
Word count=21,183
+++
TABLE OF CONTENTS
INTRODUCTION
CHAPTER 1: GETTING STARTED WITH PLANNING YOUR TRIP
CHAPTER 2: TRANSPORTATION OPTIONS
CHAPTER 3: ACCOMMODATION OPTIONS
CHAPTER 4: SAVING MONEY ON YOUR VACATION
CONCLUSION
APPENDIX 1: PLANNING GROUP TRAVEL
APPENDIX 2: PLANNING AN ITINERARY
APPENDIX 3: PET-FRIENDLY ACCOMMODATION
APPENDIX 4: ACCOMMODATION OPTIONS-YOUTH HOSTELS
APPENDIX 5: GATEWAY HOLIDAY EXAMPLES
APPENDIX 6: STAYCATION EXAMPLES
APPENDIX 7: ACTIVITY VACATION EXAMPLES
APPENDIX 8: ALL INCLUSIVE PACKAGES BY BUS
APPENDIX 9: SINGLE CITY ITINERARY EXAMPLE AND THEMED VACATION EXAMPLE: OUTDOOR ACTIVITIES
APPENDIX 10: GATEWAY HOLIDAY EXAMPLE: EUROPE
APPENDIX 11: OTHER GATEWAY DESTINATIONS
APPENDIX 12: TRAVEL SAFETY TIPS
APPENDIX 13: TRAVEL INSURANCE
=====
ABOUT THE AUTHORS
Annabelle Stevens, Evelyn Trimborn and Carolyn Stone are the authors of more than 100 guides designed to help readers live better for less.
BUY NOW: Bargain Travel Tips to Plan Your Summer Vacation: Basics for Beginners (More for Less Book 19)
Summary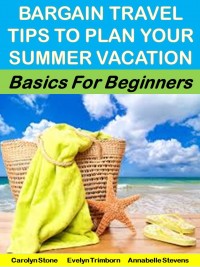 Author Rating





Product Name
Bargain Travel Tips to Plan Your Summer Vacation: Basics for Beginners
Price
Product Availability