Brilliant Breakfasts for Busy People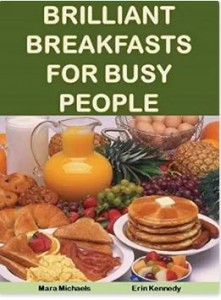 We ALL do it: skip breakfast because we think we just don't have time to make or eat a great breakfast. Or we resort to the local fast food place for a breakfast sandwich, knowing it is not ideal, but thinking it is better than nothing. We might even try to fill up on a coffee from the popular chains, to try to tide us over until lunchtime.
Many of us also skip breakfast because we are trying to slim down. If losing weight is all about cutting calories, where is the harm in eliminating one whole meal each day?
The fact is, a lot of harm. Studies show that breakfast is the most important meal of the day, setting you up for success in a number of ways. People who eat breakfast perform better at work and school, and are able to concentrate more, and actually eat less. The steady stream of nutrients and energy you can get from having a good breakfast in the morning can help you power through your day until dinner, keeping your blood sugar even and thus curbing cravings, particularly for sugary foods that can spike your blood sugar and make you want to eat even more.
In this guide, the authors discuss the importance of breakfast for your health, weight, and nutritional needs. They also show the best ways for busy people to eat breakfast and feed their families a nutritious breakfast every morning, weekdays and weekends. You will discover breakfast strategies you can live with no matter how demanding your schedule, and more than 20 great recipes and serving suggestions to help get you started on the road to more healthy morning meals.
It is time to get rid of the myth of being too busy for breakfast.  Don't sabotage yourself by skipping breakfast or resorting to fast food. Give your children the best start to each school day, and every day, with well-rounded, nutritious and delicious breakfasts. Get started today planning and preparing great breakfasts in minutes with the help of this guide.
READ MORE OR BUY NOW: Brilliant Breakfasts for Busy People (Food Matters)

===
Word count = 11,030
===
Eat Better For Less Guides=Quick and easy healthy eating at home to help stretch your budget.
===
TABLE OF CONTENTS
WHAT'S IN THIS GUIDE
INTRODUCTION
CHAPTER 1:  BACK TO SCHOOL BREAKFASTS
CHAPTER 2:  BRILLIANT BREAKFASTS FOR BUSY MOMS
CHAPTER 3:  BRILLIANT BREAKFASTS FOR WORKING PARENTS
CHAPTER 4:  QUICK, HEALTHY BREAKFAST IDEAS
CHAPTER 5: BREAKFAST 101 FOR COLLEGE STUDENTS
CHAPTER 6: BRILLIANT BREAKFAST RECIPES FOR BUSY PEOPLE
All in One Breakfast Bake
Breakfast Fruit Salad
French Toast Sandwiches
Fruit & Nut Hot Cereal
Good for You Apply Syrup
Good for You Blueberry Crepes
Hash Brown Omelet
Homemade Bacon & Egg Sandwich
Honey Orange French Toast
Ranch Scrambled Eggs & Cheese
Spiced Morning Sausage
Sunshine Muffins
Super Quick Healthy Waffles
Whole Wheat Oat Cakes
Yummy Sausage Potatoes
CONCLUSION
FURTHER READING
FREE NEWSLETTER AND GUIDES OFFER
ABOUT THE AUTHORS
Mara Michaels and Erin Kennedy are the authors of more than 20 cooking and entertaining guides.
READ MORE OR BUY NOW: Brilliant Breakfasts for Busy People (Food Matters)
Summary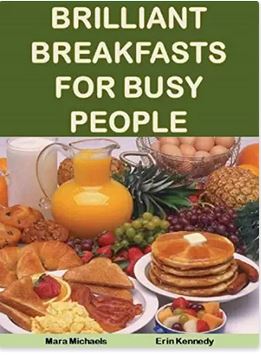 Author Rating





Product Name
Brilliant Breakfasts for Busy People
Price
Product Availability