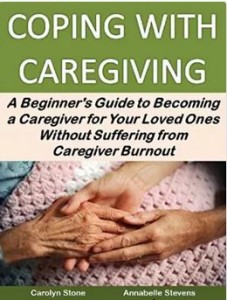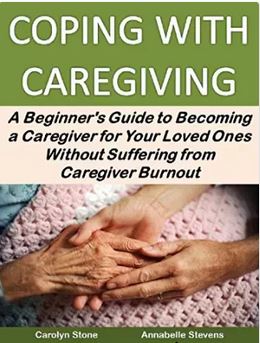 Buy Now: Coping With Caregiving: A Beginner's Guide to Becoming a Caregiver for Your Loved Ones Without Suffering from Caregiver Burnout (Health Matters Book 44)
++This guide is for caregivers, about caregivers, by caregivers. And now available in paperback too!++
Some are born caregivers, while others suddenly have caregiving thrust upon them. One slip off a ladder, moment of distraction in the car, or trip to the doctor for what seemed to be a routine checkup, can change the life of your loved one and you forever.
Caregivers are the unsung heroes of our society, looking after loved ones around the clock, often with little help, few financial resources, and only rare recognition of their efforts compared to people who work outside of the home. In many cases, people are forced to try to be caregivers and balance their need to work outside the home all at the same time.
Millions of people in the United States are serving in the role of primary caregiver for a loved one with physical, medical, age-related or emotional challenges. Some are even members of the 'sandwich generation,' caring for young children at home, even as they deal with health issues related to their own aging, while also caring for an elderly relative.
In this guide, the authors outline some of the best strategies for beginners who suddenly find themselves placed in the role of caregiver. Through learning these strategies, they can try to avoid caregiver burnout, which can occur if the new caregiver does not try to maintain a good caring, work and life balance.
If you are suddenly placed in the role of caregiver, it can be a confusing, even frightening time. In this guide, you will learn:
* The first steps to take if your loved one is diagnosed with an illness or has been in an accident
* How to develop an effective care plan for your loved one
* How to assemble and coordinate a care team for your loved one
* How to deal with insurance companies
* How to handle social security and disability claims effectively.
Caregiving has a serious impact on the entire family that should never be underestimated. In this guide, you will also discover:
* How to plan for the future, no matter what the diagnosis or prognosis
* How to deal with end-of-life issues in a practical, as well as emotional way
* The best ways to deal with the more stressful aspects of caregiving
* The best places to get help, advice and support as a caregiver
* A self-care plan to help keep you healthy so you can avoid caregiver burnout.
and more.
Caregiving challenges us on many mental, physical, emotional and spiritual levels. In this guide, learn:
* How to identify with the negative emotions that arise when you are caregiving
*Strategies for dealing with these negative emotions
* Dealing with spiritual considerations that arise in the course of caregiving
* Coping with spiritual issues in a sensitive way
* How to spot stress and stop it from leading to caregiver burnout
* Effective relaxation techniques
* Constructive ways to express rather than suppress emotions to avoid caregiver burnout
and much more.
Caregiving can be one of the most difficult jobs you will ever face. Fortunately, help is at hand. Taking care of yourself as a caregiver with the help of this beginner's guide can be the first step toward healthy and successful caregiving, no matter what short-term or long-term caregiving situation you may be dealing with. Start putting your action plan in place today, for a healthier tomorrow for you and your whole family.
===
Word Count=23,119




====
TABLE OF CONTENTS
INTRODUCTION
CH 1: DEALING WITH THE DIAGNOSIS
CH 2: DEVELOPING A CARE PLAN
CH 3: DEALING WITH A LOVED ONE INDIVIDUALLY
CH 4: TAKING CARE OF THE CAREGIVER
CH 5: COPING WITH YOUR EMOTIONS
CH 6: COPING WITH SPIRITUAL CONSIDERATIONS
+ 2 more
CONCLUSION
FURTHER READING
ACTION STEPS
===
ABOUT THE AUTHORS
Annabelle Stevens and Carolyn Stone are the authors of over one hundred health and self-help guides designed to help readers live better and transform their lives. Annabelle is a life coach who helps clients gain the skills they need to succeed. Carolyn has worked in consumer health publishing and continuing medical education for more than 20 years.
Buy Now or Read More With Kindle Unlimited: Coping With Caregiving: A Beginner's Guide to Becoming a Caregiver for Your Loved Ones Without Suffering from Caregiver Burnout (Health Matters Book 44)
Summary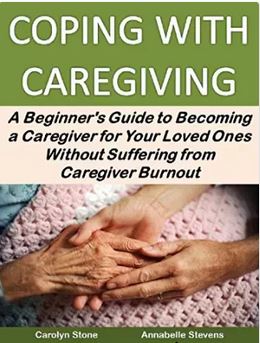 Author Rating





Product Name
Price
Product Availability