Easy Holiday Recipes: Basics for Beginners
Discover more than 30 recipes to help you create a great holiday meal even if you are a complete beginner.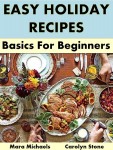 If you are looking for quick and easy recipes the whole family will love at the holidays, this book offers you 30+ recipes with variations so you can create a complete menu of soups, appetizers, side dishes and desserts.
You will also get complete instructions on how to cook a range of dishes such as tender turkey that even the pickiest eaters will enjoy. Discover recipes for vegetarian and vegan, gluten-free, and low carb options to suit any eating lifestyle.
This guide is design with beginner cooks in mind, with clear, easy to follow recipes written by real cooks. Even if you've never hosted a holiday gathering at your home and barely know one end of a spoon from another, download this guide now to start creating an impressive holiday meal for any occasion.
Audience: Beginner cooks who need easy recipes
Beginner cooks who need easy recipes for a range of different eating lifestyles, such as vegetarian, low carb and gluten-free
+++
Word Count=8,704
BUY NOW or READ MORE with Kindle Unlimited
+++
TABLE OF CONTENTS
WHAT'S INSIDE
INTRODUCTION
CHAPTER 1-MAIN COURSES
CHAPTER 2: APPETIZERS AND STARTERS
CHAPTER 3: SIDE DISHES
CHAPTER 4: DESSERTS
CHAPTER 5: DRINKS
CONCLUSION
FURTHER READING
RESOURCES
CLICKABLE RECIPE INDEX
+++
BUY NOW or READ MORE with Kindle Unlimited
+++
ABOUT THE AUTHORS
Mara Michaels and Carolyn Stone are the authors of more than 40 holiday entertaining guides. Carolyn has been working in health and nutrition publishing for more than 20 years. Carolyn has been cooking for her whole family since she was 8.
Summary
Author Rating





Brand Name
Product Name
Easy Holiday Recipes: Basics for Beginners
Price
Product Availability