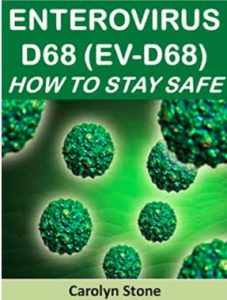 Enterovirus is the name given to a large group of viruses that can cause a range of illnesses in humans, with symptoms ranging from mild to extremely severe. In 2014, one of the Enteroviruses, Enterovirus 68, or EV-D68, has rapidly spread to almost every state in the US, leading to severe breathing difficulties in children and teens, and even causing 11 deaths as of the date this guide is being published in early November 2014.
Prevention is the best way to protect your family from EV-D68. In this guide you will discover:
+What Enterviruses are
+What EV-D68 is
+The symptoms of EV-D68
+The best ways to avoid catching EV-D68
+How to stop the spread of EV-D68
+How EV-D68 symptoms can be similar to colds, flu, and even Ebola, and what to watch for
+How EV-D68 symptoms can be similar to meningitis, and what to watch out for to keep your family safe
+Why those with asthma are at particular risk from EV-D68
+How to relieve respiratory symptoms safely and effectively
+How caregivers and health care workers can avoid spreading EV-D68
and much more.
With the flu season upon us and Ebola still a major health concern around the world, learn all you can about EV-D68 so you can keep your children and other family members safe. Apply what you learn to take effective action steps to avoid catching EV-D68, or if anyone in your household does become ill, to stop it from spreading.
+++
Word Count=27,896
Read more with Kindle Unlimited or Buy Now
+++
TABLE OF CONTENTS
WHAT'S IN THIS GUIDE
INTRODUCTION
CHAPTER 1: WHAT ARE ENTEROVIRUSES?
CHAPTER 2: WHAT DO WE KNOW ABOUT ENTEROVIRUS D68 (EV-D68) SO FAR?
CHAPTER 3: WHAT ARE THE SYMPTOMS OF EV-D68?
CHAPTER 4: HOW CAN YOU PREVENT THE SPREAD OF EV-D68?
CHAPTER 5: INSTRUCTIONS FOR PREGNANT WOMEN, PARENTS AND OTHER CAREGIVERS
+Pregnant Women
+Parents of Newborns
+Parents of Toddlers
+Parents of Children with Asthma
+Parents of Teens
+Caregivers and Healthcare Workers
CHAPTER 6: WHAT TO DO IF YOUR CHILD GETS A COLD, FLU, OR OTHER RESPIRATORY ILLNESS
+When to Get Emergency Medical Care for Your Child
+The Latest Over-the-Counter Medication Guidance for Your Child
+Natural Remedies to Relieve Respiratory Symptoms
CHAPTER 7: COULD IT BE MENINGITIS?
CHAPTER 8: HOW CAN YOU TELL THE DIFFERENCE BETWEEN ALL THESE VIRUSES AND CONDITIONS?
CONCLUSION
RESOURCES AND FURTHER READING
WHAT ELSE CAN YOU DO TO STOP THE SPREAD OF EV-D68 ?
EV-D68 IN THE NEWS
APPENDIX 1: TYPICAL SYMPTOMS OF COLDS
APPENDIX 2: TYPICAL SYMPTOMS OF THE FLU
APPENDIX 3: TYPICAL SYMPTOMS OF EBOLA
APPENDIX 4: CHECKLIST OF ACTION STEPS TO TAKE THIS FLU SEASON
Read more with Kindle Unlimited or Buy Now
++++
ABOUT THE AUTHOR
Carolyn Stone has worked in consumer health and continuing medical education (CME) publishing for nearly 20 years. She is the author of over 100 health and self-help guides, including guides on Ebola, Listeria, Cyclospora, Norovirus, Atrial Fibrillation, Colds and Flu, and Coping with Caregiving: How to Avoid Caregiver Burnout.
Summary
Author Rating





Eternal Spiral Books
Product Name
Enterovirus D68 (EV-D68): How to Stay Safe
Price
Product Availability