Hot Response Email Marketing: How to Get Your Subscribers to Open, Read, and Buy Your Products
Despite the fact that our email Inboxes are more crowded than ever, email marketing is still an extremely powerful marketing tool when used in the correct way. Effective email marketing can't be all about your own business, however. It has to be focused on your subscribers and be full of useful information they will want to read, keep, and even pass along.
Email marketing can take time to set up properly. In addition, the world of email deliverability, and what works and what doesn't, is constantly changing. In this guide, discover what you need to know about best email practices. If you are just starting an email marketing program, or you have been trying to create one, but are not getting the kind of results you hoped for, this guide has been designed with you in mind.
Use the action steps to set up, or revise and revitalize your email marketing program. Learn how to create a series of messages that will be treated like a hot item your subscribers will be eager to open rather than delete.
Done correctly, hot response email marketing can even get your subscribers to take action each time they receive an email, such as:
+forward to a friend
+buy a product
+fill out a survey
+write a review or testimonial
+attend a live event online
and more.
Hot response email marketing is all in the eye of the beholder. Focus on what they really need with the help of this guide, and see what a difference it can make to your open rates, click throughs and profits.
+++
Word count=18,257 words
Buy now or read more with Kindle Unlimited
+++
HOT RESPONSE EMAIL MARKETING:
HOW TO GET YOUR SUBSCRIBERS TO OPEN, READ, AND BUY YOUR PRODUCTS
TABLE OF CONTENTS
WHAT'S IN THIS GUIDE
INTRODUCTION
CHAPTER 1: STREAMLINE AND ALIGN YOUR EMAIL MARKETING
CHAPTER 2: PLUG THE LEAKS IN YOUR EMAIL MARKETING PROGRAM
CHAPTER 3: BOOST YOUR RESPONSE RATES
CHAPTER 4: FIVE RESPONSE RATE SECRETS
CONCLUSION
ACTION STEPS LIST: HOT RESPONSE EMAIL MARKETING
FURTHER READING
Buy now or read more with Kindle Unlimited
+++
Joan Mullally is the author of more than 100 how-to guides and 2 dozen online courses designed to help beginners to online marketing to gain the skills they need to run their own successful Internet business.
Summary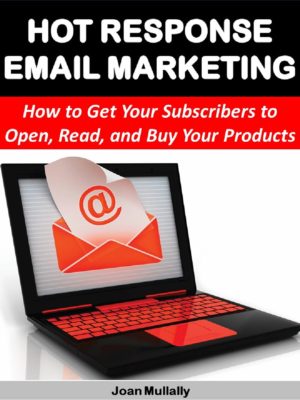 Article Name
Hot Response Email Marketing
Description
Discover how to get your subscribers to respond better to your email marketing, for a higher open rate and more sales.